Saint Mary's Hosts Youth Sports Clinic for the Next Generation of Female Athletes
By Maggie McLaughlin
Angela Athletic Facility at Saint Mary's College was filled with more than 150 female athletes on a recent Friday night, but it wasn't just the usual suspects. Athletes between the ages of six and 12 took over the gym as the women's college hosted its first annual National Girls and Women in Sports Day Clinic.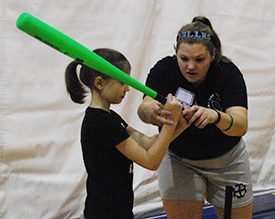 The free clinic boasted over 80 participants between the ages of six and 12 and included four 30-minute sessions. Kids took part in four of the eight varsity sports offered at Saint Mary's. At the lacrosse station, 11-year-old Jade O'Brien learned to cradle and pass. "It was fun to learn a sport I had never played before," she said. At the soccer station, 6-year-old Brooklyn Rosenbaum learned to shoot with her left foot. "I was most excited for the soccer station because it's my favorite sport."
Some girls dreamed of playing sports in college, maybe even at Saint Mary's. Gracie Fourman, age 10, sported some Saint Mary's athletic wear and spoke about one day becoming a Belle. "I think I'd like to play at Saint Mary's," said Gracie, who now plays soccer for Junior Irish. Her mother approved. "The event was wonderful for the community. The energy in the building was electric, and the college players and coaches were so enthusiastic and supportive of every little girl here," said. Elizabeth Fourman.
It wasn't just the participants that benefited from the clinic. Angela Bukur, a junior from Crown Point, was a counselor. "The girls reminded me to never lose my enthusiasm and love for the sport I play. They impacted me just as much as I impacted them," stated Bukur, a volleyball player. Junior Allie Danhof of Grand Rapids, who runs cross-country, said her favorite part was "seeing the excitement on the girls faces while receiving autographs from all the athletes they had befriended at the end of the clinic."
Director of Athletics Julie Schroeder-Biek, agreed that the event was a tremendous success. "The clinic exceeded my expectations. I loved seeing our student athletes and coaches working with these young girls and passing on their love of sports and the joy that comes with participation. I think everyone would agree that this event is a keeper."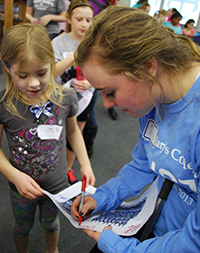 At the end of the night the girls left Angela Athletic Facility with autographed posters signed by the college athletes, Saint Mary's headbands and drawstring athletic bags, and very large grins.
Retired soccer player and two-time Olympic gold medalist Mia Hamm once said, "somewhere behind the athlete you've become and the hours of practice and the coaches who have pushed you is a little girl who fell in love with the game and never looked back." On that February night in Angela, there were dozens of little girls clearly in love with sports.
May they never look back.
   -Maggie McLaughlin is a junior at Saint Mary's College and an intern in the college's Integrated Marketing Communications office.