SAAC Service Projects
SAAC Service Projects
Events at the Convent
Decorating the Convent

Caroling at the Convent

Sundaes with Sisters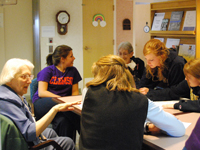 Saint Mary's College fosters a close-knit relationship with the Sisters of the Holy Cross. One way the Student-Athlete Advisory Committee continues to keep the bond between the two groups strong is to create opportunities for service and fellowship.
Members of our SAAC leadership work with the Activity Director at the Convent to determine which events to host each year. Members of all eight varsity teams participate in these scheduled activities. Spending time with the Sisters decorating the hallways, singing Christmas carols, or enjoying sundaes while visiting with them connects us to members of our founding congregation. Through these interactions with our retired sisters, our student-athletes are afforded a deeper understanding of the living mission of Saint Mary's College.
Click here to watch a video about Caroling at the Convent.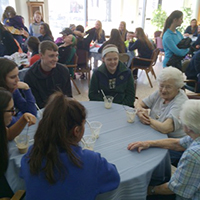 On Saturday, March 21, student-athletes enjoyed an afternoon of fellowship and root beer floats at the convent with our Holy Cross Sisters.The room was filled with chatter and laughter as the athletes and Sisters shared stories and made connections - Sister Bernie even lead us in a cheer of "Hip, Hip, Hooray"! For the sisters that were unable to leave their rooms and join us, a group of student-athletes went upstairs to deliver root beer floats directly to them in their rooms. It was an afternoon enjoyed by all!