Team Service Projects
Each of the eight varsity athletic teams annually performs an on-campus and off-campus service project.  Teams have chosen a variety of projects over the past several years. Reading for an elementary school class, serving dinner at the South Bend Center for the Homeless, and raising money for and participating in Light the Night events are just a few examples of projects that Saint Mary's teams have been a part of in the past.
Take a look at what Belles varsity athletes have done to help serve the College and local community! A listing of past service events can be found at the bottom of the page.
2017-18 Service Events
Basketball - Cross Country - Golf - Lacrosse - Soccer - Softball -  Tennis - Volleyball
Basketball 
   Team IMPACT
We attended music and movement class at Hannah and Friends after our practice on Tuesday. We all had a lot of fun dancing around with Bry and her friends.
We celebrated Bry's 13th birthday at Hannah and Friends with her friends and family. Jetta and the Jellybeans performed for Bry's party and we got to wear animal masks and eat a lot of ice cream!
   Notre Dame Special Olympics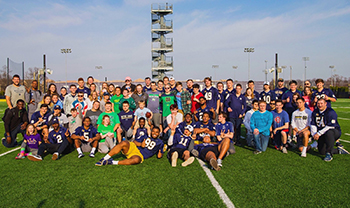 We volunteered with the Notre Dame Special Olympics at an event hosted by the football team. During this event, we split up into groups and the football team taught the athletes how to tackle, pass a football, punt a football, and catch it for a touchdown. There were some great celebrations in each of the groups and it was an exciting day working with the football team and the athletes!
   Hannah and Friends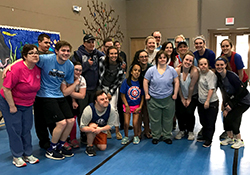 We volunteered at Hannah and Friends during their basketball practice. We first did a warm up lap outside and stretched, then we came into the gym to practice on our shots. After we finished in our two groups with shooting, it was time to scrimmage. We had a lot of fun practicing and then playing games with our friends!!​​ 
Cross Country  
TBA
Golf
   Little Flower Cookie Decorating
The Saint Mary's Golf Team helped alongside several other teams to decorate cookies for Little Flower Catholic Church. We frosted and decorated several hundred cookies. The golf team enjoyed helping out within the community and are looking forward to our next service event in a few weeks!
Lacrosse
   CROP Walk
Our team had the opportunity to volunteer with the Crop Hunger Walk of St. Joesph County on Sunday. Our team members assisted in working the check-in table and face-painting station as well as decorating the sidewalks and leading both the one mile and four mile walks. It was a great day for a great cause! Go Belles!
   Little Flower Cookie Decorating
We teamed up with the golf and tennis Belles for community service this week. We enjoyed decorating cookies for Little Flower Church's bake sale to benefit the Little Flower food pantry and social outreach programs. Go Belles!
Soccer 
   TBA
Softball
   TBA
Tennis 
    Little Flower Cookie Decorating
The tennis team, along with golf and lacrosse, went to Little Flower Church to help decorate Christmas Cookies. The room was filled with laughter, lots of frosting and sprinkles and many many cookies. It was very difficult to not eat a cookie or few while decorating.The team loved participating in this event and we cannot wait to help again next year!
Volleyball
   TBA
Past Events
2016-17 Service Projects
2015-16 Service Projects
2014-15 Service Projects
2013-14 Service Projects
2012-13 Service Projects
2011-12 Service Projects
2010-11 Service Projects
2009-10 Service Projects
2008-09 Service Projects