Summer Sports Camp - Basketball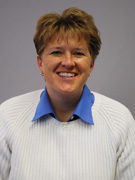 Basketball Camp Director
Jenn Henley

Helpful Links:
- Camps Homepage
- Camp FAQs
- Basketball FAQs
- Campus Map
- Special Events Camp Homepage
Basketball Camp Frequently Asked Questions
Q: What is the skill level of the camp?
A: This camp is designed for entry level basketball players. For a lot of our campers, this is their first basketball camp. My staff works hard at stressing the basic fundamentals for young girls just getting exposed to the sport.
Q: What is the format of camp?
A: The camp is designed in three sessions. The morning session is devoted to individual skills taught in rotation stations. Individual skills taught range from ball handling, speed dribble, free throws, rebounding, defensive stance, and shooting and passing to name a few. The second session is focused on putting those individual skills in motion. We teach how to play 1v1 and 3v3 as well as introducing fun and competitive shooting drills. We also incorporate team concepts that will be put to use in the evening session. The evening session combines all of the skills taught and practiced during the day to be displayed in our 5v5 competitions. These young girls start to understand the concepts of team play as well as utilizing their individual skills.
Q: My daughter is entering high school and wants to come to camp. Is this an ideal camp for her?
A: Considering this is an entry level camp, our enrollment has traditionally been those entering 6th, 7th, and 8th grades. Most high school basketball teams either host their own camp put on by the high school coach, or travel to TEAM camp where they can compete against other teams in attendance. The TEAM concept is not the main focus of this camp as we teach a lot of basic fundamentals and individual skills.
Q: My daughter's junior high team would like to come to camp. Is this an ideal camp for them?
A: This camp is not a TEAM camp. While it's great to come to camp with people you already know and play basketball with, this camp is centered around a lot of individual instruction. We want you to meet new people and learn to play with and against a variety of skill levels.
Q: What is the philosophy of basketball camp?
A: There are many different ways to teach and play the game of basketball. No two coaches are alike in that respect. Our camp uses the same teaching style we use with our varsity basketball team here at Saint Mary's. We emphasize the core fundamentals of basketball. We want all young girls to be challenged individually in a fun, safe, and positive environment, while also understanding that basketball is a team sport.
Q: Who works the basketball camp?
A: As head coach of the varsity program at Saint Mary's, I run the basketball portion of our camp. I hire my current college players to help teach and challenge our campers.
Q: What basketball items should my daughter bring to camp?
A: Basketball camp has traditionally been held on our outdoor courts. Campers should bring a pair of shoes that can be used outside on the blacktop. In the case of rain, campers will play inside the Angela Athletic Facility and should also have shoes they feel comfortable wearing indoors. Sunscreen is also a must on the courts. Water bottles will be provided to all campers.