Summer Sports Camp - Lacrosse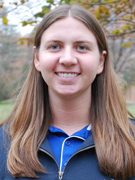 Lacrosse Camp Director
Amy Long

Helpful Links:
- Camps Homepage
- Camp FAQs
- Lacrosse FAQs
- Campus Map
- Special Events Camp Homepage
Lacrosse Camp Frequently Asked Questions
Q: What ages and skill level is the camp designed for?
A: The Saint Mary's Lacrosse Camp is offered to athletes entering 5th to 10th grade. Campers will be divided by age and ability level to maximize improvement. The sessions are designed to accommodate players of all skill levels from beginner to top high school players.
Q: What will campers learn?
A: The coaching staff will work hard to educate campers on important fundamentals and provide skill development to improve each camper's abilities. All facets of the game will be covered including stick skills, body positioning, and team concepts.
Q: How will campers learn?
A: Campers will learn and develop individual skills and team strategies through the use of small strategy and game-like drills as well as nightly scrimmages. The coaching staff will incorporate the I.D.E.A. method when teaching skills. The skill will first be introduced to campers so they know when and where to use the skill and why it is important. Then, the skill will be demonstrated by the current student-athletes on the camp coaching staff so that the campers can see the skill in action. Next, the skill will be explained so that campers understand the execution of the skill they just observed and understand how to do it. Finally, the coaching staff will attend to the campers as they practice and develop the skill with a focus on detecting errors and explaining to campers how to correct those errors.
Q: What should my camper bring to camp?
A: Each camper is responsible for providing their own lacrosse equipment. This includes a women's lacrosse stick, women's lacrosse goggles, and a mouth guard. These three pieces of equipment are required and players will not be permitted to play without the proper safety equipment (goggles and mouth guard).