Summer Sports Camp - Soccer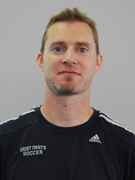 Soccer Camp Director
Mike Joyce

Helpful Links:
- Camps Homepage
- Camp FAQs
- Soccer FAQs
- Campus Map
- Special Events Camp Homepage
Dear Soccer Camper and Parents,
We are excited to bring you another year of the Saint Mary's Soccer Camp this summer!
Our camp is designed to expand your knowledge and appreciation of the sport in a competitive but fun environment. You'll work with some outstanding coaches from the Saint Mary's Soccer staff as well as current Saint Mary's players. No matter what your previous experience is, you will find the week challenging and rewarding. We work hard to provide that right balance of challenges and success so you leave confident in yourself and as a player.
Please don't hesitate to contact me if you have any questions about the camp.
Our team is looking forward to seeing you this summer!
Michael Joyce
Head Soccer Coach