Coaching Staff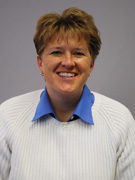 Head Coach - Jenn Henley
Jenn Henley returns to the court for her ninth season as head coach for the Belles in 2014-15 with eight successful seasons behind her.
In her first season as head coach, the Belles attained a 10-6 MIAA record, which represented the most conference victories since joining the league at that point. In her second season, Henley coached a Belles team that played their way to the MIAA semi-finals for a second consecutive year.
In 2009-10, she led the Belles to one of the best seasons in school history with record overall wins (17) and MIAA wins (13) while the team made their first appearance in the MIAA finals. During that same season, the Belles won their fourth consecutive MIAA Tournament First Round game while finishing third in the league.
In 2010-11, Henley's squad surpassed the school record for wins with 18 while sending out the class of 2011 with the most wins by a graduating class with 63. Under Henley's guidance in 2011-12, the Belles sent out their senior class by matching the most wins in a four-year period while taking third place in the MIAA for the third consecutive season. She had her tenth different student-athlete earn All-MIAA honors at the end of the 2012-13 season. In 2013-14, Henley coached her fourth student-athlete to multiple career All-MIAA honors.
Prior to coming to Saint Mary's College, Henley spent five years as the head women's basketball coach at Mount Union College. Prior to her career at Mount Union, Henley served as an assistant coach at Loras College while attaining her master's degree in athletic administration, which she completed in 1998.
The native of Fostoria, Ohio, played one season at Ohio Northern University until a career-ending knee injury stopped her during her freshman season. Henley earned her bachelor's degree in 1997 in both sport management and communication arts.
Henley has taught upper-level classes at Mount Union in human performance and sport management.
Assistant Coaches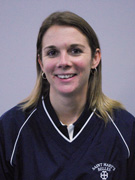 Melissa
Makielski
Melissa Makielski enters her seventh year as an assistant coach for the Belles in the 2014-15 season. Helping Saint Mary's to their sixth consecutive season in the top four in the MIAA, Makielski's extensive background in the nation's oldest athletic conference will continue to aid the Belles' hopes to be a mainstay in the top of the league.
Prior to joining the Saint Mary's coaching staff, Makielski served as the sports information director (2003-08), assistant women's basketball (2003-08) and softball coach (2004-07), and the head junior varsity women's basketball coach at fellow MIAA school Tri-State University (since renamed Trine University). While in Angola, she also was the assistant camp director for the Hoosier Basketball Camp from 2003 to 2007.
A Dean's List and President's List student while at Tri-State, Makielski (then Cope) graduated with a Bachelor of Science degree in elementary education. She was a four-year varsity basketball player for the Thunder and was twice named to the Wolverine-Hoosier Athletic Conference All-Academic Team. Makielski was also the recipient of the Tri-State University Shari Coons Award, which is given to the class's outstanding senior female student-athlete.
Last spring, Makielski completed her master's degree in organizational leadership from Indiana Tech.