SMC vs. Calvin
Mahoney Notches Career-High As Belles Defeated by Calvin
GRAND RAPIDS, Mich. - Patsy Mahoney scored a career-high 23 points, but tough shooting in the first half proved to be the difference maker in the Saint Mary's basketball team's 74-60 loss at Calvin on Saturday.

Calvin started the game with a 9-0 run as the Belles had three missed shots and four turnovers in their first seven possessions. Saint Mary's battled back within six points at 15-9 on a three-pointer by Mahoney with 12:03 left on the clock in the first half. The Knights responded with a 12-0 run to go up 27-9 over the next four minutes as Calvin would hold a double-digit lead for the remainder of the half and game.

After trailing 39-25 at the half, Saint Mary's and Calvin would end up playing even in the second half as each team scored 35 points in the final 20 minutes.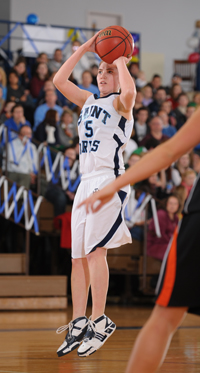 Patsy Mahoney had a career-high
23 points on Saturday.The Belles had a tough shooting first half, making 7-of-26 (26.9%) shots from the floor while Calvin was 15-of-23 (65.2%) in the opening 20 minutes. Both teams committed 25 turnovers and 19 fouls in the contest. Saint Mary's held an edge over the Knights from the free throw line, making 20-of-24 attempts to Calvin's 15-of-20. The Knights, however, out-scored Saint Mary's 46-30 in the paint.

Patsy Mahoney led all players with her career-high 23 points while adding a pair of steals and two assists. Kelley Murphy was a rebound shy of a double-double with a 19 point, nine rebound effort against the Knights. Maggie Ronan had her fifth consecutive game with at least 10 points by notching 11 points with a game-high four steals.

The Belles will return to Angela Athletic Facility to host Olivet on Wednesday, January 26 at 7:30 p.m. in an MIAA tilt with the Comets.