Belles Back On Track With Win Over Scots
Box Score

NOTRE DAME, Ind. - The Saint Mary's basketball snapped a three-game skid with a decisive 72-50 win over Alma on Saturday afternoon.

The Belles broke a 2-2 tie with seven straight points to kick off a 24-5 run in less than a ten-minute span to take command of the game. During that run, six different players drained baskets for the Belles, which would be the story for the offensively balanced Saint Mary's squad. The Scots, however, did their best to make it a competitive game. Alma used their own 9-1 run over the final 2:08 of the half to get within eight points of the Belles at the break (30-22).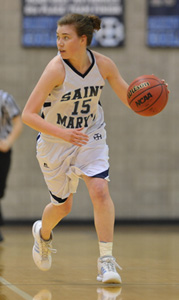 Patsy Mahoney had game-highs
for points (19), assists (8), and
steals (6) in the Belles' win.Saint Mary's took little time to cushion their lead in the second half. The Belles scored on their first three possessions of the second period on their way to out-scoring Alma 12-2 in the first three-and-a-half minutes for a 42-24 lead. With under 14 minutes remaining on the clock, Patsy Mahoney scored seven points in less than a minute to give Saint Mary's their largest lead to that point (25). After that quick spurt of points from the senior guard, the Belles would maintain at least an 18-point advantage over the Scots for the remainder of the contest.

The Belles held a +10 margin on rebounds (44-34) while making eight more shots from the floor than the Scots. Saint Mary's also made the most of their opportunities off of Alma turnovers as the Belles out-scored the Scots 37-12 off turnovers.

Patsy Mahoney led all players in the contest with 19 points, eight assists, and six steals. The eight dimes and sixth thefts are both career-highs for the senior guard. It was also the 50th time in her career that she has scored at least ten points for the Belles. Balance was key to the Saint Mary's win as Maggie Ronan had 15 points, Kelley Murphy added 12 points, and Ariana Paul scored a season-high 10 points for the Belles' double-digit scoring. Murphy also had a game-high nine rebounds in the win.

The Belles (3-5, 1-1 MIAA) will next be in action when they travel to #15/24 Hope for a 7:30 p.m. tip-off on Wednesday, December 7.