Stanley Clark School Teams Up With Belles Basketball
NOTRE DAME, Ind. - This past Wednesday, February 8, the Saint Mary's basketball team hosted their annual Think Pink Game to help raise awareness of and funds to help the battle against breast cancer.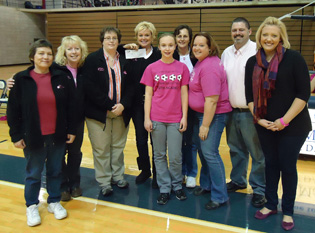 Representatives from Young Survivors receive a check
from representatives from Stanley Clark School at the
Belles' Think Pink Game.While the Belles were victorious on the court, the team was raising funds for the Young Survivors breast cancer support group of South Bend. Pink desserts were available at the concessions, and all funds raised through the sales of concessions and tickets, donations for desserts, and general donations were combined for the Young Survivors.
During halftime of the game, a special check presentation was made to the Young Survivors. Stanley Clark School, a local private pre-kindergarten through eighth grade school, presented the group with a check for $250 that was raised by the sixth grade students at SCS in a combined effort with the Belles to show support of the South Bend community.