Basketball Squad Recognized for Academic Excellence

ATLANTA, Ga. - The Saint Mary's basketball team was one of just 25 NCAA Division III women's basketball teams to earn Women's Basketball Coaches Association (WBCA) Academic Top 25 Team Honor Roll accolades for the 2011-12 school year.

Head coach Jenn Henley's squad boasted a 3.464 cumulative grade point average for the 2011-12 school year, which was the 19th-best among all Division III women's basketball programs last year.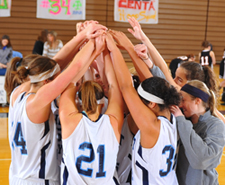 "I am incredibly proud of all the hard work our student-athletes have put in on and off the court," Henley said. "They truly epitomize the term 'student-athlete', so this is a great recognition of their dedication and commitment to academics and athletics."

Fellow MIAA members Hope and Calvin were also recognized for their academic achievements by garnering WBCA Academic Top 25 honors.

The WBCA Academic Top 25 annually recognizes NCAA Divisions I, II and III; NAIA; and junior/community college women's basketball teams across the nation that carry the highest combined grade point averages (GPAs) inclusive of all student-athletes on their rosters for the entire season. The 2011-12 season is the 17th in which the WBCA has produced the honor rolls.