Dry Spells Sidetrack Belles Against Lady Reds
KENOSHA, Wis. - The Saint Mary's basketball team fell in a 86-42 contest at Carthage on day one of the two-day Carthage Classic.
The host Lady Reds stormed out to a 17-1 lead through the opening 6:31 of action after connecting on three of their first three-point shots and picking up points on eight of of ten possessions to start play. Ariana Paul hit back-to-back jump shots to breathe some life into the Belles and make it a 17-5 difference with more than 12 minutes left before the half.
Carthage, however, used a span of a minute and a half to score seven straight points a few moments later to regain a 24-5 advantage with 8:41 on the clock.
After taking a 43-18 lead into the halftime break, Carthage further distanced themselves with a 10-0 run over the first 6:11 of the second second half as the Lady Reds held the lead throughout the game.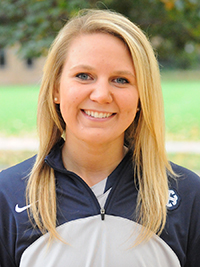 Eleni Shea had 16 points and two
assists to lead the Belles.The Belles' woes against CCIW competition in the 2014-15 season continued on Monday as Saint Mary's was held to a 25.5 field goal percentage on the night. Carthage posted a 58.8 field goal percentage while hitting 9-of-20 three-point shots (45.0 percent) in the game.
Eleni Shea led the Belles with 16 points while also dishing out a pair of assists. Ariana Paul added eight points and a game-high eight rebounds. Molly Robinson also chipped in eight points on the night.
The Belles (3-8) face off against Manchester at 2:00 p.m. CST in the consolation game of the Carthage Classic tomorrow, December 30.