Melissa Makielski Named Head Basketball Coach at Saint Mary's
NOTRE DAME, Ind. (July 1, 2016) – The Saint Mary's College Department of Athletics and Recreation proudly announces Melissa Makielski as the new head coach of the varsity basketball program.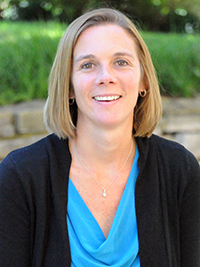 Makielski becomes the eighth head coach for the Saint Mary's basketball program after spending the past seven seasons as an assistant coach for the Belles. She joined the coaching staff for the 2009-10 season and has assisted in the recruitment, development, and instruction of players in the Saint Mary's basketball program. During that same span of time, she has held admission and enrollment positions with ITT Technical Institute, Ross Medical Education Center, and Trine University School of Professional Studies all in the greater South Bend area.
Prior to joining the Saint Mary's coaching staff, Makielski served as the sports information director (2003-08), assistant women's basketball (2003-08) and softball coach (2004-07), and the head junior varsity women's basketball coach at fellow MIAA school Tri-State University (since renamed Trine University). While in Angola, she also was the assistant camp director for the Hoosier Basketball Camp from 2003 to 2007.
A four-year varsity basketball player for Tri-State, Makielski (then Cope) was twice named to the Wolverine-Hoosier Athletic Conference All-Academic Team. She was the recipient of the Tri-State University Shari Coons Award, which is given to the class's outstanding senior female student-athlete.
"I am grateful for the opportunity to lead the Saint Mary's basketball program," said Makielski. "There are many exciting changes happening on campus which will benefit both the program and the College. It has been exciting to get to work with the Saint Mary's basketball program over the past several years, and I look forward to continuing to be a part of the community while helping our student-athletes achieve success on and off the court in this new role."
A Dean's List and President's List student while at Tri-State, Makielski graduated with a Bachelor of Science degree in elementary education in 2001. She completed her Master of Science degree in organizational leadership from Indiana Tech in 2012.
Makielski begins her position on July 5, 2016.