Basketball Coaching Staff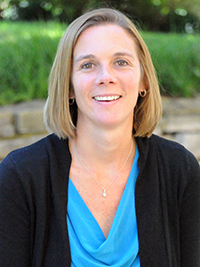 Head Coach - Melissa Makielski
Melissa Makielski enters her third season at the helm of the Saint Mary's basketball program in the 2018-19 academic year.
Makielski became the eighth head coach for the Saint Mary's basketball program after spending the past seven seasons prior to her appointment as an assistant coach for the Belles. She joined the coaching staff for the 2009-10 season and has assisted in the recruitment, development, and instruction of players in the Saint Mary's basketball program. During that same span of time, she has held admission and enrollment positions with ITT Technical Institute, Ross Medical Education Center, and Trine University School of Professional Studies all in the greater South Bend area.
Prior to joining the Saint Mary's coaching staff, Makielski served as the sports information director (2003-08), assistant women's basketball (2003-08) and softball coach (2004-07), and the head junior varsity women's basketball coach at fellow MIAA school Tri-State University (since renamed Trine University). While in Angola, she also was the assistant camp director for the Hoosier Basketball Camp from 2003 to 2007.
A four-year varsity basketball player for Tri-State, Makielski (then Cope) was twice named to the Wolverine-Hoosier Athletic Conference All-Academic Team. She was the recipient of the Tri-State University Shari Coons Award, which is given to the class's outstanding senior female student-athlete.
In her first season as the head coach for the Belles, she had eight student-athletes earn MIAA Academic Honor Roll accolades for maintaining at least a 3.5 cumulative GPA for the entire academic year. Additionally, the team posted a combined GPA of 3.388 to garner the MIAA Team GPA award for the year. Her second season saw the team post the most wins in a single season since the 2013-14 season. Makielski had her first All-MIAA honoree in Gabby Diamond as the senior earned Second Team accolades. As a team, the Belles again earned the MIAA Team GPA award with a 3.492 GPA.
A Dean's List and President's List student while at Tri-State, Makielski graduated with a bachelor of science degree in elementary education in 2001. She completed her master of science degree in organizational leadership from Indiana Tech in 2012.
Assistant Coaches
Kim Moore
Hannah Dollinger