Bellacappella
It's a Musical Life: Saint Mary's singing groups provide instruction and a home for music-lovers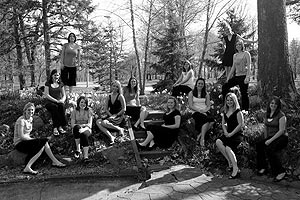 Members of Bellacappella, Saint Mary's a cappella singers
Sophomore Lauren Theiss knows why Saint Mary's is a great place for music-lovers. Not only does the College boast a dynamic and nationally accredited music program, but campus is rife with opportunities for students to express themselves through song and dance. Theiss is a member of two musical groups on campus, the renowned Saint Mary's Women's Choir and Bellacappella, a student-run a cappella singing group. "I grew up singing in choirs and when I came to college, I knew that I needed to join a music group," says Theiss. The education major is a music minor who is sampling the best of both worlds, singing classical selections in the Women's Choir, and popular numbers with Bellacappella.

This Friday Theiss and the other members of Bellacappella will perform in the Little Theatre. The students arranged the performance selections themselves, each representing a different genre. "We tend to sing more popular songs while maintaining musicality," explains Theiss. "This is a very talented group who just likes to have a good time while entertaining a crowd." Theiss is hard-pressed to name a favorite piece from the program. She supports her fellow singers wholeheartedly and admires all their hard work in putting together the performance. "I love sharing my passion for music with such wonderful, talented, and motivated women," she says.

When Theiss graduates in 2010, she will move on to share her passion for music with another audience—her students. "Children love music, and being able to incorporate music into a classroom helps the students stay engaged and excited about the material." For this singing teacher, the music program has been integral in setting her career path as a future educator.