Franny Wall
Student Profiles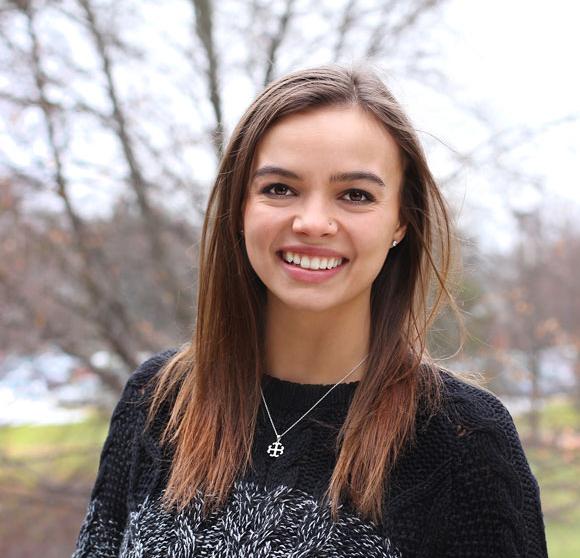 "Looking back it was a good experience. At the time it felt scary."
Franny Wall '18 was highly involved in journalism in high school and writing always came easily to her. In considering majors, she didn't know which way to go but didn't think English or writing was going to be her career path. She looked into communicative sciences and disorders and it too just didn't feel right.
So she used her first year as a way to explore her options and experience a variety of subjects. She had an interest in psychology and wanted to see if it might be a fit. She also followed her love of music and joined the choir in her first year. Even though she had been in choir and musicals throughout high school, she didn't know how to read music and never even thought of it as a major. But music professor Nancy Menk changed all that.
Finding her path
Reflecting on that time Franny shared, "Music was an afterthought which feels strange to say." The idea to major in both music and psychology came from an unexpected source. In her sophomore year, her mom mentioned a book she had read by Jodi Picoult featuring a music therapist. From her family, the book, and faculty at Saint Mary's, Franny developed her own personal plan.
"Looking back it was a good experience. At the time it felt scary. I mean we're talking about your career!" Franny explained that the exposure to a variety of courses and decision to have a double major has expanded both her circles and her skill sets. The unique path has taught her to study in different ways and as a result, she's become a critical thinker which will prove helpful in her career.
Sharing her experience
When asked what advice she would give to incoming students, especially those who are still exploring options for their major(s) Franny gives this advice, "Use your resources at Saint Mary's. Talk to to the faculty, ask advice from professors, and friends too." She recognizes how much the Career Crossing Office and friends in Bellacappella and classes helped in her explore potential majors.
Franny's experience is not uncommon. By allowing herself the time to explore and really discover all her options and interests, she is building an educational path toward a career that will not only be personally fulfilling but help her make a difference in the world.