Athletic Camps 2014
July 6-10 • July 13-17

Overnight and Day Camp options available
(girls entering grades 5-10)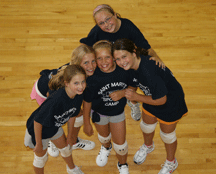 Choose from a variety of athletic camps at various skill levels. Experienced instructors, varsity coaches, and college athletes provide guidance according to individual need. Coaches will help you sharpen your skills on the field or the court. You'll set goals, share in a positive, team-oriented atmosphere, and develop healthy habits that will help you achieve success.
Saint Mary's athletic facilities include three indoor volleyball and basketball courts, six outdoor tennis courts, a soccer field, and a softball field. Instruction is provided by Saint Mary's staff, faculty, and area coaches who are chosen for their expertise in the classroom and on the playing field. In addition to overnight Athletics Camps, Saint Mary's offers an economical day camp option featuring daily personal instruction in the discipline of your choice. Day Camp slots are offered from 9 a.m.– 8 p.m.
All camps are for beginning and intermediate players with the exception of volleyball week two, which is geared toward intermediate and advanced players.
Saint Mary's College strives to offer your daughter the best camp experience. Your feedback is crucial to helping us accomplish this goal. Please take a moment to complete our online survey. We hope to see your daughter back next year!
Athletic Camp Quotes
"The volleyball camp realy helped me. I had a lot of fun... and I made the varsity volleyball team." - Emily
"The Saint Mary's Athletics Camp instructors and counselors worked with Emily one-on-one to improve her fundamentals. She left camp with a greater confidence both on and off the court." - Emily's mom