Athletic Camps Sports 2014

Soccer - July 6-10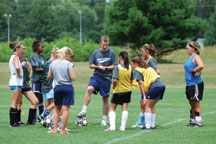 Practice dribbling, passing, offense, and defense with your teammates. Soccer coaches will work with you to develop these skills, and you will have opportunities to demonstrate them throughout the week during drills and scrimmages.
(*New*) Softball- July 6-10
This camp emphasizes the basics of throwing, catching, fielding, hitting, base running, and pitching. Positioning and strategies are taught through game-like drills and scrimmages. Softball camp will be offered only during the first session of the Athletic Camps.

Volleyball - July 6-10 (beginner to intermediate) • July 13-17 (intermediate to advanced)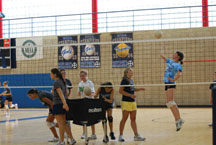 As a volleyball camper, you will take to the court each day to learn and practice fundamental skills. You will participate in drills for blocking, hitting, passing, setting, serving, and serve reception. Coaches will teach you dynamic offensive and defensive strategies, which you will practice in games and scrimmages.
Tennis July 13-17
You will work with coaches to develop and refine all your tennis skills—footwork, ground strokes, serves, service returns, and volleys. Coaches focus on doubles and singles strategies, and you will match up against other campers in contests, games, and tournament play throughout the week.

Cross Country - July 13-17
Saint Mary's new Cross Country Camp will help runners at all levels to develop safe and effective training methods. The camp staff will emphasize an individualized approach to training and will instill in campers the importance of mental preparation, stretching, and weight training.
Lacrosse - July 13-17
Flex your muscles - and your agillity - on the field in this fast-paced game. Lacrosse is one of the quickest growing team sports in the U.S. Join your new teammates for practices and scrimmages that focus on speed, coordination, skill with the crosse, and team building.
Typical Schedule
| | |
| --- | --- |
| 7:00 am | Wake up |
| 7:30-8:30 am | Breakfast |
| 8:45 am | Day Camper Arrival |
| 9:00 am | Morning Announcements |
| 9:00-11:30 am | Session I - Instruction & Drill |
| 11:30-12:45 pm | Lunch |
| 1:00-3:30 pm | Session II - Instruction & Drill |
| 3:30-4:30 pm | Recreational Time (optional) |
| 4:45-6:00 pm | Dinner |
| 6:15-8:00 pm | Session II - Competition |
| 8:00 pm | Day Camper Pick up |
| 8:00-9:00 pm | Evening Activity |
| 9:00-10:15 pm | Overnight Campers in Residence Halls |
| 10:15 pm | Overnight Campers in Rooms |
| 10:30 pm | Lights Out |