FAC Performances
Camper Talent Show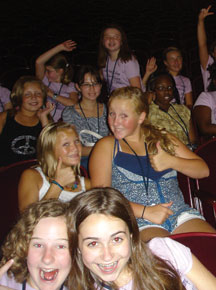 Following Counselor Follies, the campers stage their own talent show. Come ready with an idea (costumes/instruments if needed) to either perform by yourself or with friends you'll meet at camp. Campers in previous years have performed short skits, danced, twirled batons, played the piano and even told jokes.
Counselor Follies
Each week the counselors put on a variety show of sorts for the campers known as Counselor Follies. This performance consists of comedy skits, improv, dance numbers, and talent shows. Past years' counselors have sung, played instruments, and done baton routines. The campers love watching their counselors act goofy, and the counselors relish the chance to ham it up for their campers! It's a win-win situation packed with laughs.
Evening Performances
Campers will enjoy a performance and/or demonstration on Monday and Tuesday night by an artist. These sessions are meant to entertain the campers, inspire them, pique their curiosity, and let the campers work with the artists. Previous sessions have included performances by bands, Irish dance, theatre, solo musicians, and even getting the campers involved in composing and recording music.
Field Trips
Each week the campers take a field trip to see a theatre performance. Campers love the opportunity to get dressed up and experience live theatre!
Performance Forum
Each Friday of Fine Arts Camp, parents, grandparents and friends gather in O'Laughlin Auditorium for a special performance to end the week of camp. All campers in each performance class will present the projects they worked out throughout the week. This is an awesome culmination to a very exciting week! Doors open at 2:30 p.m. with the show beginning at 3 p.m.