Athletics Camps
Camp Supervisor
Julie Schroeder-Biek

Helpful Links:
- Campus Map
- Main Camps page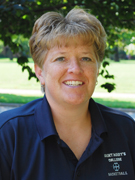 Camp Co-Director
Jenn Henley
Assistant Athletic Director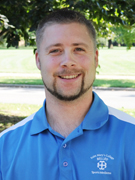 Camp Co-Director
Jason Kolean
Director of Sports Medicine
July 12-16 July 19-23
July 12-16: Tennis
Volleyball I (beginner-intermediate)
July 19-23: Tennis
Volleyball II (intermediate-advanced)
New Athletic Fields in 2016!
Due to construction of our new Saint Mary's College athletic fields, we are not able to offer as many Athletics Camps this summer. Check back with us next year for new, expanded camp offerings when our field construction is completed.
Get in the game!
Play the sport you love or explore a new one. Experienced instructors, varsity coaches, and college athletes provide guidance according to individual need.
Coaches will help you sharpen your skills on the court. You'll set goals, share in a positive, team-oriented atmosphere, and develop healthy habits that will help you achieve success.
Saint Mary's athletic facilities include three indoor volleyball courts and six outdoor tennis courts.
In addition to overnight Athletics Camps, Saint Mary's offers an economical Day Camp option featuring daily personal instruction in the discipline of your choice.
All camps are for beginning and intermediate players with the exception of Volleyball II, which is geared toward intermediate and advanced players.
Dear Camper and Parents,
Thank you for your interest in the Saint Mary's College Athletic Summer Camps! Our camps are open to all girls entering 5th-10th grades. We offer a variety of sports for you to improve not only your fundamentals, but also your enjoyment of the game.
You will learn from the best as each of our sports camps are led by the current varsity coaches. You will also have the opportunity to interact and train with Saint Mary's College student-athletes! Our coaches and athletes are actively involved in every training session, as well as all other camp activities. Campers will develop connections with our campus community for years to come!
Our goals in camp include teaching proper fundamentals, learning the strategies of each sport, and having fun. We offer both day camp and overnight camp options that allow campers to find the best fit for them. Not only will campers become better athletes, they will have the chance to do so on the beautiful Saint Mary's College campus!
I have a long history with our summer sports camp program. Prior to my role as Director of Athletics, I served as director of our camps from 1993 - 98 and again from 2001 - 2008. My own daughter enjoyed participating in our camps for several years, so I have seen our camps as both a staff member and as a parent. I fully believe in our programs and encourage you to attend our summer camps. If you have any questions about camp, please feel free to contact me at jsbiek@saintmarys.edu. We look forward to seeing you at camp this summer!
GO BELLES!
Julie Schroeder-Biek
Athletic Summer Camps Supervisor
Athletic Director