Lay Ministry Program
This program, designed by Saint Mary's College Campus Ministry Department in collaboration with the Religious Studies Department, prepares students for future study and work in ministry.
The lay ministry program offers courses, workshops and supervised experiences in various aspects of ministry.
At the time of graduation, students who have successfully completed the program will graduate with a minor in Religious Studies and be recognized at Relligious Studies' hooding.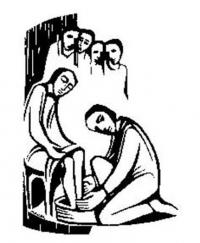 Candidates are students who:
Have some experience in ministry (high school/college)
Show basic knowledge of Catholicism and interest in their own faith development
Are able to relate well with others and show emotional and spiritual maturity
Are willing to give necessary time for training, education and reflection on their ministry experiences
Religious Studies courses and non-credit workshops required:
A minor in Religious Studies, including:
The two courses required as part of our General Education program: RLST 101 and a 200-level RLST course
Two additional RLST courses, one of which may be an additional 200-level course and at least one of which must be numbered 300 or above. Some courses that might be of special interest to those in the program are RLST 225: Reading the Hebrew Bible in Jewish and Christian Terms; RLST 251: The Christian Tradition; RLST 304: The Historical Jesus; RLST 362: Becoming Women; RLST 406: Ways of Doing Theology; and RLST 455: Historical Theology.
RLST 476: Theology for Ministry I: Theory
RLST 486: Theology for Ministry II: Practicum
Various non-credit workshops on liturgy, prayer and theological reflection


Active participation in a wide variety of ministry experience is expected in three of the following areas:
Liturgy (word minister, eucharistic minister, music minister, hospitality minister, liturgical dancer)
Faith Development (retreat, small faith group, liturgy preparation)
Social Concern (service club, service outreach, and reflection)
Sacramental Preparation (confirmation, adult Christian initiation, CCD)
Reflection on one's gifts and call to leadership in the Church through:
Regular meeting with mentors
Journaling
Retreat
Integration Seminar: Students choose a topic which will address a certain aspect of ministry and include a leadership experience. The student will work with a professional minister with background in that area to serve as an advisor. The student's personal theological reflection on the experience, working with a professional and presenting the findings are key components of this seminar.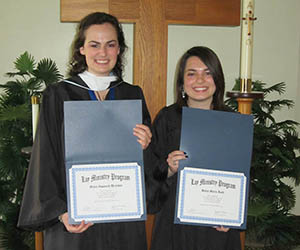 Graduates of the Lay Ministry Program
Grace Uranker and Haley Koth
Contact person: Regina C. Wilson
Director of Campus Ministry
164 Regina Hall
rwilson@saintmarys.edu
(574) 284-5382