2017 Commencement Speech
Remarks by Justice Anne M. Burke at Saint Mary's College
May 20, 2017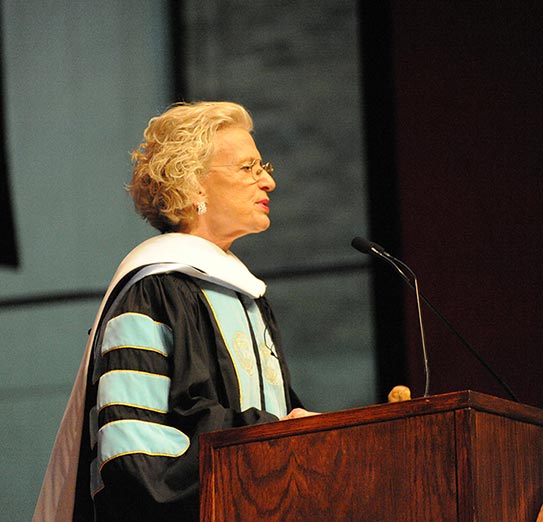 President Cervelli, Members of the Board of Trustees, Sisters of the Holy Cross, distinguished staff and faculty, and gentlemen, proud — and relieved — parents and, especially, the women of Saint Mary's College Class of 2017.
I would like to recognize the student Valedictorians, Brianna Kozemzak and Elise deSomer. Let me also express my gratitude to the Trustees of Saint Mary's for the great honor this honorary degree represents.
Good afternoon to all — and congratulations!
Thank you for inviting me to share this momentous occasion with you. I am honored to be here to offer a few words, which I hope will be meaningful to you as you embark on the next phase of your lives.  
Perhaps you thought this day would never come or perhaps you are sitting here today in disbelief that the time has passed so quickly. I would venture a guess that most of you have experienced both of those feelings. That is how life unfolds. And yet, Graduates, here we are today celebrating an important milestone in your lives. This ceremony marks the end of one chapter, as well as the beginning of a new one.
Now, as you look forward to a fresh journey that is before you, my advice to you is simple. It comes from an old Chinese proverb that says: "If you want happiness for an hour, take a nap. If you want happiness for a day, go fishing. If you want happiness for a lifetime, help somebody."
More recently, another authority on how to lead a good and happy life — Mr. Rogers — put it this way: "Be a helper."
I am not talking about just a few acts of community service. Rather, as you go forward, I encourage you to truly engage with others, to recognize each person as a fellow human being, to embrace their struggles as your own, to treat them as your brothers and sisters.
As graduates of Saint Mary's you are well equipped to tackle this challenge. For the past four years you have been exposed to numerous examples of what it means to be a helper. One such example is Dr. Dorothy Feigl, one of the College's most dedicated professors. She has been helping students at Saint Mary's to master the mysteries of science since 1966!
Dr. Feigl is one of the honorees today in recognition of her enthusiastic sharing of her lifelong passion for teaching chemistry. Saint Mary's exists because the Sisters of the Holy Cross, and professors like Dr. Feigl have dedicated their lives to the mission of helping others.
The Sisters understood the need to educate women long before mainstream society caught up — and that was only one of the inspiring, pioneering ways the Sisters have changed the world for the better.
I was inspired to learn that the United States Army Civil War Campaign Medal was presented to the Sisters of the Holy Cross just last fall. It was given in recognition of the service of those sisters, who long ago, had nursed both Union and Confederate soldiers who were injured on America's Civil War battlefields. That tradition of service continues into the present, as evidenced by today's other honoree, Sister Maura Brannick.
Sister Maura oversees a health clinic in South Bend which offers care for those most in need — the unemployed and working poor who have nowhere else to go — the people we too often relegate to our peripheral vision, if we see them at all. These people would be abandoned if it were not for the devotion of people like Sister Maura.
Dr. Feigl, Sister Maura, and all the members of the Sisters of the Holy Cross congregation are part of an unbroken chain of goodness and service that extends across centuries.
President John F. Kennedy was fond of saying, "Do not pray for an easy life. Pray to be a stronger person." Being of service to others does not always make for an easy life. But I promise you, it will be a rewarding one. There is nothing more worthwhile — or more satisfying — than helping someone to better their life.
There is an irony that exists in today's society — technology has made us more connected now than we have ever been. And yet, that connectedness is often superficial, creating an even greater chasm between us. When we fail to engage in direct human interaction and replace it with an electronic "virtual reality," we begin to diminish our own humanity.
Stay engaged. Get involved. Be a helper. But also, remain humble.
Inscribed on the wall of the courtroom of the Illinois Supreme Court is a Latin phrase: "Audi alteram partem." It means "Hear the other side."
The words are meant to be a reminder to the justices that, as we listen to the arguments presented in the cases that come before us, we must put aside any personal bias or prejudice we might have and, instead, listen — truly listen — to what is being said.
I think it is good advice for everyone. A willingness to understand another's viewpoint — to listen to and consider the merits of an opposing point of view — is essential.
And, I would suggest, that if you want others to listen to you or hope to change other peoples' minds, you must be open to changing your own. I trust that your Saint Mary's education has taught you the importance of that principle.
Now, as you venture into the world, I am sure that there is a certain amount of trepidation and uncertainty. You will face choices and wonder, "am I making the right decision." If there is one lesson I can offer you from my own experience, it is this: Your path does not have to be straight, or your ascent swift, to be successful.
I was a C-student in grammar school and high school with undiagnosed dyslexia. I started college after graduating from high school, only to drop out one year later because my school moved to the far western suburbs and I had no way to commute and I needed to work. A decade would pass before I returned to college, finished my undergraduate degree, and then went on to attend law school. I was 40 years old, with a husband, four children and a large dog when I completed my legal education.
There is something else about my life story that I want to emphasize: Some of the most meaningful moments of my life happened before I began my legal career. Motherhood, first and foremost, is an accomplishment in which I take great pride.
Next on the list is my work with special-needs children. When I was in my 20s and dropped out of college, I began working for the Chicago Park District, teaching physical education at West Pullman Park. There I volunteered to take part in a completely new program — one unlike any other in the nation. It would provide children and young adults with mental and physical disabilities the opportunity to learn the skills necessary to compete in sports and in life.
While working with these special needs children, I saw the positive impact that competition had on their lives. Sports competition gave them validation, encouragement, and a stronger self-image.
With this realization, I suggested that our athletic competitions might be expanded city-wide. Remarkably, it was out of that simple observation and suggestion that the Chicago Special Olympics was born in July 1968.
With the support of the Joseph P. Kennedy Foundation and the Kennedy family, those first Chicago games were transformed into a national movement, and eventually, expanded globally to become the International Special Olympics, reaching tens of millions in 170 nations across the world.
All of this grew, not because of my academic record, but because of the calling I felt to work with children, to nurture them, and to advocate for those who needed someone to fight for their rights.
I credit my ability to understand my calling to a woman rich in wisdom and large in heart, Sister Henrietta of the Sisters of St. Casmir. She became my advisor in my sophomore year at Maria High School on the South Side of Chicago. It was her encouragement and direction that pushed me to "do what your heart leads you to do." I have always tried to follow that sage advice.
The summer of 1968 is significant to me, not just because it was the start of the Chicago Special Olympics, but because it was the beginning of my married life. Marriage was soon followed by children and, with my continued involvement in Special Olympics, my life was filled with activity.
It was a hectic and busy time, yet it was when my husband decided that I should go back to college! With his support and encouragement I took a leap of faith and jumped back into academics, enrolling in the DePaul University School for New Learning. My success there gave me the courage to continue my education.
Actually, attending law school was, again, my husband's idea. He knew of my passion for advocating for children and those who have no voice of their own. And he knew that I would be better able to protect children and those who are most vulnerable if I were an attorney.
I attended Chicago-Kent College of Law and after graduation began a small, neighborhood law practice which focused on family law and children's issues. I think it is fair to say that everything I have accomplished since those days in private practice has flowed from a sense of working for families and children who are at risk.
In 1987, I was appointed by Governor Thompson to be a judge on the Illinois Court of Claims — the first woman to hold that position. But because my passion continued to be family and children's issues, I resigned from the Court of Claims so I could serve as Special Counsel to Governor Edgar for Child Welfare Services, helping to bring reforms to our State's Child Protective Services.
In 1995, I was appointed to the Appellate Court and elected to that position in 1996. In 2002, while serving as an Appellate Court Justice, I was appointed to the National Review Board of the United States Conference of Catholic Bishops to investigate sexual abuse by the clergy. I later became the Board's Interim Chair.
The Review Board produced a detailed report of our findings, though I am not sure that our work was well received by the Bishops.
After nearly 12 years of serving on the Appellate Court, I was appointed to the Illinois Supreme Court to fill the unexpired term of Justice Mary Ann McMorrow, who was the first woman to serve on the Supreme Court in Illinois. In November of 2008, I was elected to a 10 year term on the Court. The Illinois Supreme Court is where I continue to serve today.
That's my story!
Graduates, each of you will have your own story to tell, a story that is yet to be written.
If you have not yet discovered your path, have no fear. A straight and clear path makes for a nice stroll, but it is the obstacles and detours that make life interesting.
Martin Luther King, Jr. put it this way: "Take the first step in faith," he said. "You don't have to see the whole staircase, just take the first step."
So listen to your heart and trust what it tells you. I know it will lead you to wonderful things.
The degree you are receiving today symbolizes the education you acquired here at Saint Mary's. It is an education of mind and soul — an understanding of the values of faith and community, in addition to the lessons of the classroom.
You leave here not only as wiser women and men, but as better women and men, having been immersed in an academic and spiritual culture that honors sacrifice and service as much as it values success by society's standards.
You are now a part of the great Saint Mary's tradition and have inherited the responsibility to carry forward the knowledge and values you have been taught. Saint Mary's has prepared you well. Go forward to wherever your heart leads you.
Do not be afraid to take risks — just take that first step in faith. Along the way, listen to the other side. Be a helper. And pray for the strength of character to pursue goals that serve the vulnerable and erase the barriers that divide us.
I hope you might remember some of the words I have shared with you today, but as I conclude, let me quote from a wise Talmudic scholar, Rabbi Hillel. He said: "If I am not for myself, who will be for me? If I am not for others, what am I? And if not now, when?"
Thank you for sharing your Commencement with me. Congratulations to the women and men of Saint Mary's Class of 2017.
May God bless you and your loved ones and may God bless America!