Commencement 2022: Hooding Ceremonies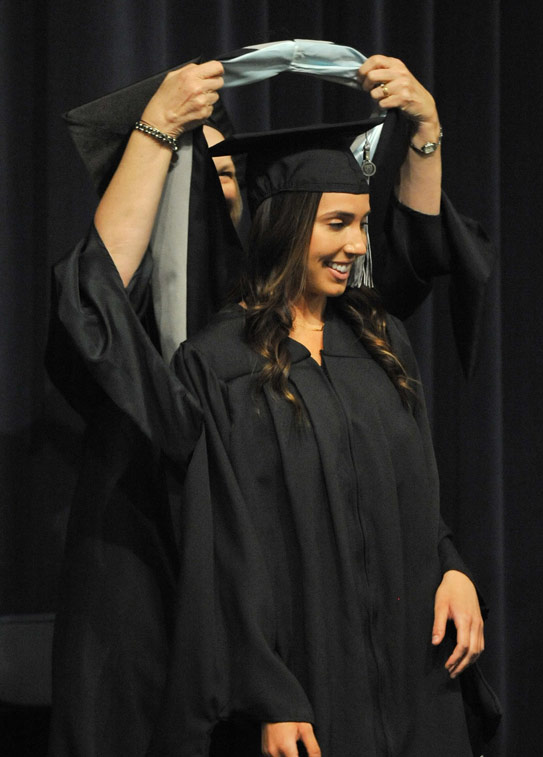 The academic hood is the symbol of admission to the community of scholars. In each of its forms (bachelor, master, doctor) it symbolizes a level of academic achievement and is appropriately worn only by those who have reached that level. 
At Saint Mary's, hoods are formally presented by the department or program in which a student has completed the major program of study. Recognition is also given to students' achievements and contributions.
2022 Hooding Ceremony Schedule:
Art
April 21, 5:30–8 p.m.
Moreau Gallery, Patio
Autism Studies
May 14, 9–10:30 a.m.
Spes Unica Atrium, Decio Commons
Biology
May 13, 1–3 p.m.
Room 105/Science Hall
Business Admin & Economics
May 13, 1–3 p.m.
Little Theatre/Moreau Center for the Arts
Chemistry/Physics
May 13, 9:30–11 a.m.
Room 105/Science Hall
Communication Studies, Dance, and Theatre
May 1, 2–3:30 p.m.
Little Theatre/Moreau Center for the Arts 
This ceremony is open to STUDENTS ONLY, and will be livestreamed for parents, family and friends
Data Science — Graduate Studies
May 14, 9–9:30 a.m.
3rd Floor Breezeway/Madeleva
Education
May 13, 1–3 p.m.
D/E/F Conference Rooms/Student Center
Engineering
May 1, 1–3 p.m.
Room 105/Science Hall
English
May 13, 9–11 a.m.
Madeleva Northeast Lobby
Environmental Studies
May 13, 9–11 a.m.
Dalloway's Clubhouse
Gender and Women's Studies
April 28, 5–7 p.m.
Madeleva North Patio
Global Studies
April 25, 6:30–8 p.m.
Spes Unica Atrium, Decio Commons
History
May 13, 9–11 a.m.
Room 145/Spes Unica
Humanistic Studies
May 13,10–11 a.m.
Room 140/Spes Unica
Math and Computer Science
April 28, 5–6 p.m.
Carroll Auditorium/Madeleva
Modern Languages and Cultures
May 13, 9–11 a.m.
Room 123/Regina
Music
April 29, 6:30–9 p.m.
Nancy Menk's residence
Neuroscience
May 13, 9–11 a.m.
Vander Vennet Theatre/Student Center
Nursing Science- Undergraduate and Graduate
May 13, 10–noon
O'Laughlin Auditorium /Pinning and Hooding Ceremony combined 
Philosophy
May 13, 1–3 p.m.
Madeleva North Patio 
Political Science
May 13, 1–3 p.m.
Room 145/Spes Unica
Psychology
May 13, 1–3 p.m.
Vander Vennet Theatre/Student Center
Religious Studies
May 13, 9–11 a.m.
Room 254B/Madeleva
Social Work and Gerontology
May 1, 1–3 p.m.
Room 145/Spes Unica Atrium
Sociology
May 13, 1–3 p.m.
Room 135/Spes Unica
Speech Language Pathology — Undergraduate
May 13, 9–11 a.m.
Haggar Welsh Parlor
Speech Language Pathology — Graduate Studies
May 13, 1–3 p.m.
Carroll Auditorium/Madeleva