Exceptional Seniors
Meet Some Exceptional Seniors from the Class of 2015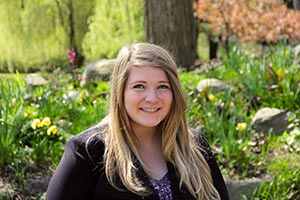 A global studies and political science double
major, Danay Haley won the Department of
Global Studies' Academic Achievement Award.Danahy Haley
Danahy Haley sang soprano in Saint Mary's Women's Choir and was treasurer of the Saint Mary's College Democrats. A global studies and political science double major, she minored in French, and studied abroad in Rome for a semester. She also received the Department of Global Studies' Academic Achievement Award.
After graduation, she'll return to Fort Erie, Ontario and will work in Cash Management at Fiserv, Inc in Williamsville, New York, the company with which she interned the past four summers.
Reminiscing over her four years on campus, Danahy says she'll miss her friends, but will also miss seeing the Le Man Bell Tower.
"The tower has grown to be a symbol for everything Saint Mary's represents to me; the sisterhood I've found here, the legacy of the strong, intelligent women before me (including my mother and aunt), and the future of this wonderful institution."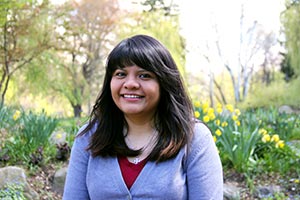 Dara Marquez will intern as a medical chemist
with Eli Lilly and Company in Indianapolis.Dara Marquez
Chemistry major Dara Marquez participated in the Paper Analytical Device research project, which lead to two patents; was active all four years in La Fuerza, a club dedicated to increasing diversity on campus; and served as a mentor for students who identify as diverse through Belles Connect.
An Elkhart native, Dara will intern as a medical chemist with Eli Lilly and Company in Indianapolis. She plans to use her chemistry major and the large number of engineering classes to work in industries or for organizations that innovate. "I believe innovation, in all aspects, is essential to pursuing a more educated and empowered society," Dara says.
Dara feels she's redefined how she characterizes herself after spending the last four years at Saint Mary's.
"I am no longer just a Latina woman in a STEM field with working-class parents and the first to graduate college. I am now defined as a Latina woman, but also as a woman with 'intellectual vigor, aesthetic appreciation, religious sensibility, and social responsibility.' "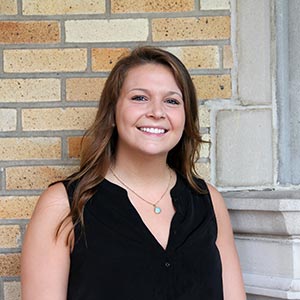 A volleyball player and social work major,
Meredith Mersits joins Teach for America,
teaching while earning a master's in education.Meredith Mersits
Active on and off the court, volleyball player Meredith Mersits served on the Student Athlete Advisory Committee (SAAC); worked with the Belles Against Violence Office; was a justice education student assistant; and created and organized the research project which aimed to count the number of homeless youth in St. Joseph County.
A social work major, she carries biology and justice education minors. Upon graduation, she'll move to Milwaukee to participate in Teach for America, earning a master's in education as part of the program. 
Meredith will miss the feeling of being home here on campus, and she credits Saint Mary's with preparing her for her future.
"I have definitely found where I am and who I want to be; Saint Mary's College has given me the resources to flourish into an independent and self-aware woman."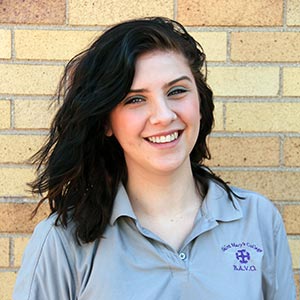 Active in BAVO as an advocate for women,
Payton Moore received a full scholarship to
University of Cincinnati's master's program
in women's, gender, and sexuality studies.Payton Moore
In her four years at Saint Mary's, Payton Moore served as a Student Advisory Committee Member with the Belles Against Violence Office; was active in theatre productions since her first year; president of Feminists United; planned campus events for the Department of Gender and Women's Studies; and was an S-O-S advocate in the community.
She fit these interests into her education, as well. Double-majoring in English literature and history, she carried gender and women's studies and theatre performance minors. While she was accepted into Indiana University's Robert McKinney School of Law's Pro Bono Program, she will defer law school. Instead, she'll attend University of Cincinnati's master's program in women's, gender, and sexuality studies on a full scholarship in the fall.
Leaving Saint Mary's, she'll miss the professors the most. 
"The connections you make here run deep and help you grow in so many ways. I would not be where I am today without the professors here that have shaped me and my academics."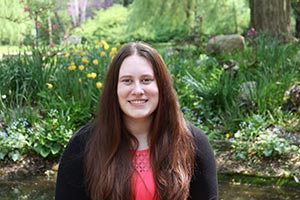 The first Saint Mary's student to be awarded
a National Science Foundation Graduate
Research Fellowship, Erin plans to continue
her Alzheimer's research at Dartmouth College.Erin Reinhart
As a chemistry major, Erin Reinhart was active in Saint Mary's Affiliation of the American Chemistry Societ (SMAACS) both as a member and as secretary the past two years. SMAACS is involved in the Chemistry Magic Show and Hypatia Day, two events aimed at inspiring youth, particularly girls, to pursue chemistry. She was also a teaching assistant in Organic and General Chemistry courses.
This summer, Erin will work as a student researcher at New England Biolabs in Ipswich, MA, a company recognized globally for their discovery, development, and commercialization of recombinant and native enzymes for genomic research. In the fall, she'll attend Dartmouth College to pursue a PhD in chemistry. She was awarded a National Science Foundation Graduate Research Fellowship to continue the Alzheimer's research she began with a SISTAR grant at Saint Mary's.
Erin confirms that Saint Mary's is an academically challenging environment. 
She'll miss "the drive of my fellow colleagues to excel in everything that we do and to reshape the world around us."