Exceptional Seniors
Meet Some Exceptional Seniors from the class of 2014

Colleen Donahue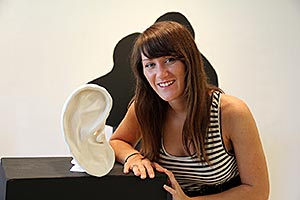 Colleen posing next to her sculpture of the ear

A double major in communicative sciences and disorders and studio art with a concentration in ceramics, "Speech Language Pathology (SLP) was a natural career progression," says Colleen. She feels her two majors are easily intertwined. "My passions focus on showing verbally, visually, and emotionally the inner thoughts of the person trying to correspond with others. Both of my majors emphasize this basic human need of communication." As part of her studio art comprehensive, Colleen's sculptures of hearing disorders were on display in Moreau Center for the Arts.
For her clinical practicum, Colleen worked in Saint Mary's new Judd Leighton Speech and Language Clinic, instructing therapy sessions for two girls, ages 5-6. She used phonetic placement and motor kinesthetic approaches with the girls, and also worked with another patient, a 62-year-old male.
She lead two different Bible study groups and was part of the Iron Sharpens Iron faith youth group at the University of Notre Dame. She played intramural sports almost every semester, and she volunteered at Hannah and Friends and Granger Community Church.
After graduation, Colleen will work as a speech pathology assistant for a year, then begin working toward her master's in speech language pathology.
Galicia Guerrero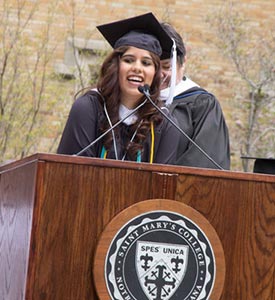 Galicia Guerrero '14
A social work major, Galicia has been deeply involved with Campus Ministry during her time as a student. She has provided valuable input as a peer minister, willingly reaching out to other students to offer encouragement and support for their own faith. She has also been a member of the Student Advisory Committee for the Belles Against Violence Office (BAVO). She is known for welcoming challenges and gracefully accepting tasks, hers is truly the model of servant leadership. In her work with BAVO she has co-chaired the events and campaigns programming committee, facilitated workshops, overseen program planning, and has mentored other committee members.
Galicia has served as a Resident Assistant for three years, and is deeply committed to the wellbeing of students and the value of being a community of faith. One of her unique methods to bring people together is to serve them one of her now famous homemade cupcakes. She understands that gathering around something as simple and festive as a cupcake can brighten an otherwise stressful day.
While studying abroad in Seville, Spain, she interned with Asociacion Mujeres Entre Mundos, an organization that raises awareness of immigrant populations in the host society. She developed and taught an English as a New Language course, and helped with intercultural sensitivity workshops for the community.
Galicia was awarded the Lumen Christi award, given to a senior who is recognized by the College community as an outstanding Christian woman, who has excelled in leadership and loyalty to Saint Mary's College and whose presence has had a profound effect on the College community. The Lumen Christi Award is the highest award the College confers upon a student.
She will attend the Brown School of Social Work MSW program at Wahington University in St. Louis.
Sara Napierkowski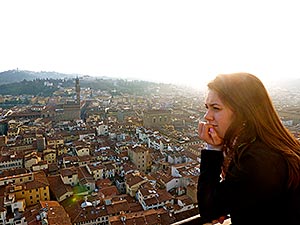 Sara at the top of the Duomo in France
Sara is a bit of a trailblazer for Saint Mary's. She's a member of the first graduating class of global studies majors, which she double-majored with Italian. Global studies exposed her to many disciplines, much like the Sophia Program, but more globally oriented. "As a member of the first graduating class in the Global Studies Department, the possibilities are endless. Because the program is so new, I've had the unique opportunity of customizing my course of study and working closely with my professors."
Active in the Italian Club, Belles Against Violence Office (BAVO), and being a mentor for kids, Sara feels her education and Saint Mary's experiences helped her earn the Governor Bob Orr Indiana Entrepreneurial Fellowship in 2014. Sara was awarded the Orr Fellowship from thousands of applicants. This opportunity allows Sara to utilize her well-rounded education, gain executive level experience, and build professional contacts through the Orr Fellowship peer network. She'll be working at Teradata, a global leader in warehousing, based in Indiana.
Malea Schulte

Malea, with President Mooney '72,
accepting her Outstanding Senior
award.
A studio art major with a math minor, Malea Schulte is active on campus as the student trustee on the College Board of Trustees and also serves as an administrative residence advisor in Holy Cross Hall. Malea is part of the Intercultural Leadership program and has been in the Women's Choir and Bellacappella all four years at Saint Mary's. She joined the Friends With Sisters program in her sophomore year, and she has served in various Campus Ministry roles including as lector, lay presider, and cantor.
Malea has served as a student committee member and Spirituality Task Force member on the College Alumnae Board of Directors and in student government as her class vice president, on Sophomore Class Board, and as the Community Committee chair. In these leadership positions Malea established a campus wide Christmas charity that raised over 100 donated gifts for local families. She started Acoustic Night, a performance opportunity for Saint Mary's and Notre Dame student musicians, and organized other events. She studied abroad in Rome and participated in a student trip to China.
She's the winner of the 2014 Outstanding Senior Award, given each year by the Alumnae Association to a student who exemplifies the spirit and values of her school and is distinguished by scholarship, leadership, and outstanding dedication to Saint Mary's through participation in both curricular and extracurricular activities.
This summer she will co-lead a women's delegation to Rwanda in recognition of 20 years' post-genocide and in the fall she'll attend Maryland Institute College of Art to begin a MFA in community arts program.
Kathleen Sullivan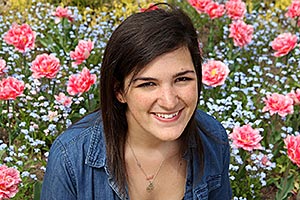 Kat Sullivan '14
Kathleen "Kat" Sullivan, a communications studies major with minors in film studies and business administration, is student body president. While in office, she instituted changes, including a pre-jam celebration before Domerfest, where students had an opportunity to gather and meet new people. She also took more of a lead on the first year students' orientation. She and fellow student government members created a series, Know the Facts, about issues such as depression, assault, and drinking to educate students on what to do if they find themselves in each situation. She was the vice president of External Affairs last year and Student Body President last year on Student Government Association. She served on the Student Activities Board for 3 years as the Movies Committee Chair and was the Publicity Chair for Residence Hall Association.
A film buff, Kat worked on videos for March of Dimes and Coldwell Banker. As part of an independent study course, she and several other students shot and edited a documentary featuring local residents of South Bend's Center for the Homeless.
Kat plans to attend graduate school in 2015 in higher education administration with the goal of working in a student activities office.