Family & Friends
Welcome Family and Friends!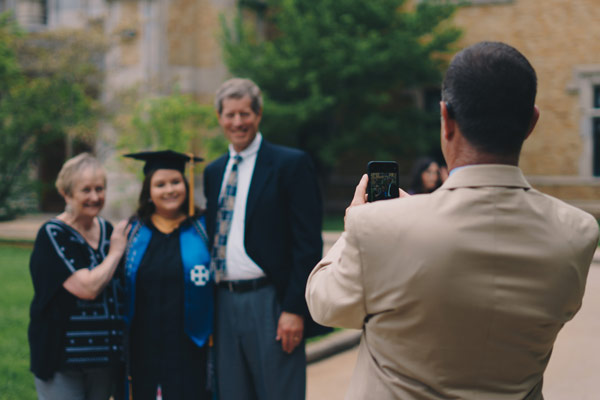 We are excited to host the 173nd Commencement Ceremony at Saint Mary's College on Saturday, May 16, 2020. If you're planning to attend this momentous day, please take a look at the following information which might be helpful in making your arrangements.
Share Your Photos!
We'd love to see your photos! Share your Commencement moments with us on Instagram using #BellesGrad2020
Graduation Brunch
If you wish to attend the Graduation Brunch from 8:30 to 11:30 a.m., it is advisable to purchase advance tickets no later than May 4. (Tickets may also be purchased at the door based on availability.) Students do not need to purchase a ticket and will be admitted with their IDs.
Planning Your Visit
Frequently Asked Questions
What happens if it rains?
In the event of rain, the ceremony will move to Angela Athletic & Wellness Complex, and tickets will be required with limited seating. You'll find all the details on our Inclement Weather Plan page.
Does Saint Mary's provide seating for people with mobility needs? 
The College offers accommodations for guests with mobility needs. Please contact the Office of the President with requests for seating at (574) 284-4603. 
Is there an indoor location where guests can watch the ceremony? 
Yes. The ceremony will be available via live broadcast indoors — rain or shine — on a large screen in O'Laughlin Auditorium in Moreau Center for the Arts. 
Where can I find out about wheelchair accessibility on campus? 
Visit the campus map with accessibility areas marked.
I'm coming from out of town. Where can I locate information about area lodging and meals? 
You can find great information at Visit South Bend.
Is there housing available on campus commencement weekend? 
Yes, residence hall rooms are available for rent. Please visit Staying On Campus for more information and to make reservations. 
For additional questions, call the President's Office at (574) 284-4603.