Commencement Speaker and Honorees

2014 Commencement Speaker and Honorees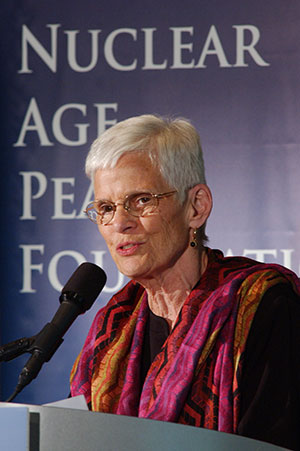 Judith Mayotte, 2014 Commencement Speaker
(photo courtesy of Rick Carter/NAPF
(Nuclear Age Peace Foundation)Saint Mary's College is proud to announce that the 2014 Commencement speaker is Judith Mayotte, a humanitarian, professor, author, and Emmy Award-winning television producer. The College will present her with an honorary doctor of humanities degree. Also receiving an honorary doctorate at Commencement will be Helen Murray Free, a pioneering chemist who conducted research that revolutionized diagnostic testing in the laboratory and at home.
In addition, the College will honor Sarah Belanger Earley '71 with the President's Medal. The medal is presented rarely and exclusively to those who have offered exceptional contributions to the life of the College and the community. Among her may contributions to the College, Earley is one of the tri-chairs tirelessly leading the $80 million Faith Always, Action Now campaign.

Click here for a press release about them and other Commencement news.