Class Valedictorians
Two seniors will share the title of valedictorian of the Class of 2017. The two will deliver a joint valedictory address at the College's commencement ceremony on Saturday, May 20.
Brianna Kozemzak '17, of Eagan, Minnesota, a computing and applied mathematics major with a minor in chemistry, was recently awarded the National Science Foundation Graduate Research Fellowship. While at Saint Mary's, she found her niche in the world of applied mathematics. Through various research opportunities, she learned to value her own mind and be proud of what she brings to the table.
Kozemzak used her summers to put her Saint Mary's education into practice through her passion for research. She has examined the movement of copper through bacterial cells with Dr. Pedro Mendes at UConn Health and developed a mathematical model for mumps outbreaks in small communities with professor Elizabeth Wolf as part of a SISTAR grant at Saint Mary's College.  
Kozemzak credits the Saint Mary's faculty for her inspiration to pursue research in graduate school. She values the personal relationships she has developed with professors and how they have enriched her experience and shaped her career path.
"The faculty at Saint Mary's provide a great support network. They gave me the guidance and encouragement I needed to participate in summer research experiences, apply for the Graduate Research Fellowship Program, and pursue graduate school," she said. "What makes Saint Mary's such a special place is that nobody is treated as a number; the professors here genuinely care about your personal discovery and growth as much as your academic performance."
Kozemzak will pursue a PhD in Biomedical Informatics at Stanford University.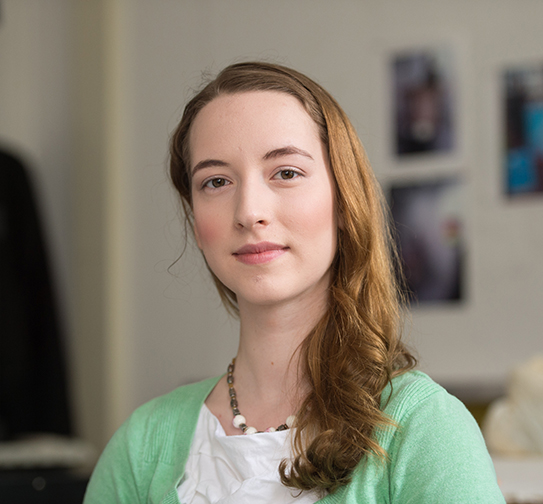 Elise deSomer '17, a South Bend native and a double major in studio art and English literature with a minor in English writing, will pursue opportunities to develop her professional skills in a traditional job environment. Eventually, she plans to get her PhD in English literature, but wants to take some time off from the world of academia for a while.
As a double major in two areas requiring ample effort outside the classroom, deSomer didn't have much spare time. She found herself constantly striving to improve her work, both in the studio and on the page. An experience she values during her four years as a Belle is her semester abroad, during which she studied at Maynooth University in Ireland.
"Saint Mary's gave me the confidence to hop on a plane without my parents and know I'm going to be just fine. The fearlessness Saint Mary's has given me makes the idea of going outside the state for a job not intimidating for me anymore," deSomer remarked.
DeSomer particularly appreciated the opportunities to enrich her talents and discover new ways to share her voice in the classroom and beyond. Over the summer of 2016, she studied object-oriented ontology alongside associate professor of art Krista Hoefle and created 15 conceptual scenes that tease the eye and bend the mind. Check out her work in this online gallery.
"A Saint Mary's education means realizing that my intellect and my ideas are worth something. There's nothing more powerful than realizing that."