Conni's Yes to China
By Emily Doyle '18
"Why am I going to China?" Conni Dubick '68 asked herself as she was packing to spend 19 days across the world. She was one of the members of the 2017 China Summer Program. This program focuses on giving Saint Mary's College students, alumnae, and faculty the opportunity to travel to China and study the empowerment of women in China today. Upon hearing about the China Summer Program, Conni immediately wanted to join.
Conni graduated from Saint Mary's with a degree in Religious Studies and formerly directed the Religious Studies department. A woman of deep faith, she was looking for the answer to why she said yes so quickly to the China adventure.
The answer to her question came in different ways at different times. Halfway through the adventure, she realized exploring China gave her a greater appreciation of the beauty of God's creation, universal values, human connection, and the Saint Mary's College wisdom, to name a few. Visiting China deepened her human roots.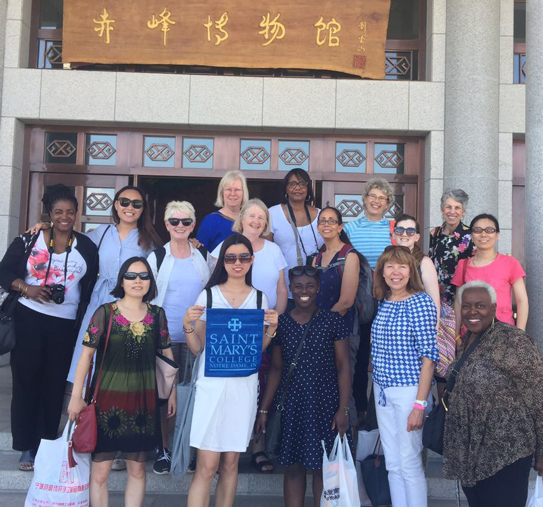 "Saint Mary's enters your life in interesting ways" she says. The spirit of the alumnae and the sisterhood developed at Saint Mary's College contributed to the success of this program. The opportunity to study women in today's Chinese culture led to Conni's immediate desire to join the program as well. She and the other participants visited different Chinese universities, museums, and landmarks like the Gongger Grasslands, the Terra Cotta Warrior site, and the Great Wall.
Along with her amazement of the physical landmarks China offers, Conni was in awe of the Chinese people. At each place the group stopped, the Chinese were taking pictures of them instead of the other way around. Everyone was genuinely excited to see this group of Americans when they stepped foot in cities, restaurants, and landmarks. Chinese parents encouraged their children to say hello and wave to the group of Saint Mary's women who were just as excited to explore Chinese culture as the Chinese were to see them. Conni was reminded of the biblical teaching "welcoming the stranger" as she was welcomed to China so graciously.
As the program came to a close, Conni continued reflecting on her experience through a faith filtered looking glass. She appreciated and embraced every new and different experience, every traveler she encountered, and the fellow Saint Mary's women with whom she formed strong relationships. Her "yes" to this opportunity turned out to be one of the best ways to experience more of God's beautiful creations.