Sister Madeleva's walking stick is connection to past
If you look closely at video or photographs of the Inaugural Ceremony, you may notice what looks like a cane to the left of the podium. That belongs to Sister M. Madeleva Wolff, CSC who served as president of Saint Mary's College for 27 years (1934-61). Sister Madeleva was a visionary, an educator, a medieval scholar, a poet, and a woman of deep spiritual conviction who famously promised Saint Mary's women discovery of the universe and their unique places in it. A lesser-known fact is that Sister Madeleva carried a walking stick, and that she had several of them.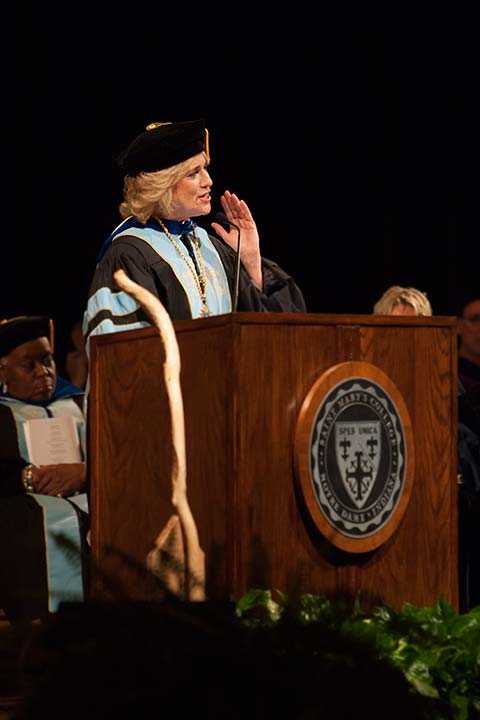 Cervelli has incorporated Sister Madeleva's favorite walking stick, made from a hawthorn tree on campus, as a part of all College convocations, including Inauguration. The walking stick is a tangible connection to the founding ideals of the Sisters of the Holy Cross, Cervelli says. It also serves as a symbol of Saint Mary's past and the path that current and future students will travel.
---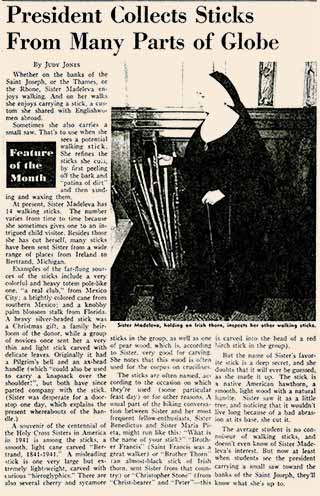 Editor's note: The article below appeared in the February 1954 issue of Saint Mary's Static, the student newspaper of the time.
President Collects Sticks from Many Parts of Globe
By Judy Jones '54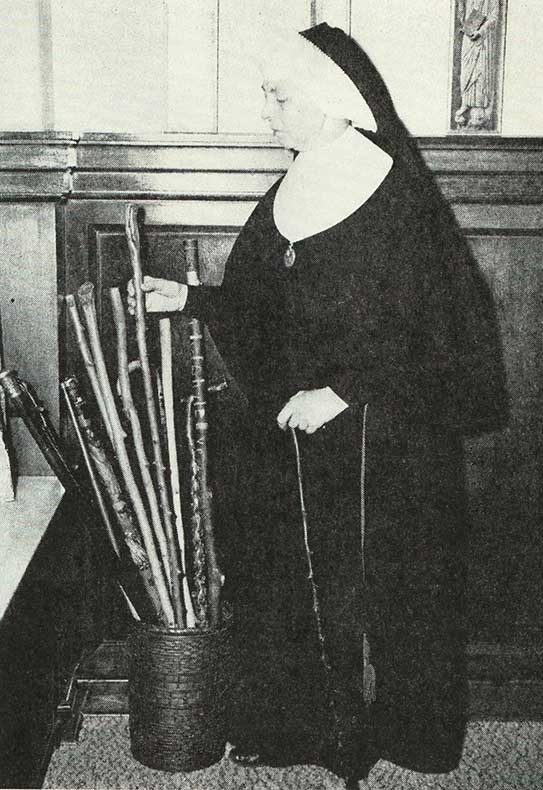 Whether on the banks of the Saint Joseph, or the Thames, or the Rhone, Sister Madeleva enjoys walking. And on her walks she enjoys carrying a stick, a custom she shared with Englishmen abroad.
Sometimes she also carries a little saw. That's to use when she sees a potential walking stick. She refines the sticks she cuts, by first peeling off the bark and "patina of dirt" and then sanding and waxing them.
At present, Sister Madeleva has 14 walking sticks. The number varies from time to time because she sometimes gives one to an intrigued child visitor. Besides those she has cut herself, many sticks have been sent to Sister from a wide range of places from Ireland to Bertrand, Michigan.
Examples of far-flung sources of the sticks include a very colorful and heavy totem pole-like one, "a real club," from Mexico City; a brightly colored cane from southern Mexico; and a knobby palm blossom stalk from Florida. A heavy silver-headed stick was a Christmas gift, a family heirloom of the donor, while a group of novices once sent her a very thin and light stick carved with delicate leaves. Originally it had a Pilgrim's bell and an ax-head handle, which "could also be used to carry a knapsack over the shoulder," but both have since parted company with the stick. (Sister was desperate for a doorstop one day, which explains the present whereabouts of the handle.)
A souvenir of the centennial of the Holy Cross Sisters in America in 1941 is among the sticks, a smooth, light cane carved "Bertrand, 1841-1841." A misleading stick is one very large but extremely lightweight, carved with curious "hieroglyphics." There are also several cherry and sycamore sticks in the group, as well as one of pear wood, which is, according to Sister, very good for carving. She notes that this wood is often used for the corpus on crucifixes.
The sticks are often named, according to the occasion on which they're used (some particular feast day) or for other reasons. A usual part of the hiking conversation between Sister and her most frequent fellow-enthusiasts, Sister Benedictus and Sister Maria Pieta, might run like this" "What is the name of your stick?" "Brother Francis" (Saint Francis was a great walker) or "Brother Thorn" (an almost-black stick of Irish thorn, sent Sister from that country) or "Christopher Stone" (from "Christ-bearer" and "Peter" — this is carved into the head of a red birch stick in the group).
But the name of Sister's favorite stick is a deep secret, and she doubts that it will ever be guessed, as she made it up. The stick is a native American hawthorn, a smooth, light wood with a natural handle. Sister saw it as a little tree, an noticing that it wouldn't live long because of a bad abrasion at its base, she cut it.
The average student is no connoisseur of walking sticks, and doesn't even know Sister Madeleva's interest. But now at least when students see the president carrying a small saw toward the banks of the Saint Joseph, they'll know what she's up to.