Sustainability may be a theme of Cervelli's presidency
Cervelli, who is a landscape architect and environmentalist, made sustainability the theme of her Inauguration. Pope Francis inspires her and his encyclical Laudato Si': On Care For Our Common Home, she says, serves as a wakeup call to humanity to be better stewards of Planet Earth. The reception following the Inaugural Ceremony included banners that summarized the growing list of sustainability efforts underway at the College over the past several years.
Ecological appreciation has even found its way into the classroom. Aaron Moe, assistant professor of English Literature, offers a course called Ecopoetics in the Anthropocene. Meg Brownley '18 is taking the class and was inspired to write Wooden Life, an eco-composition featured on the back cover of the fall/winter 2016 issue of Courier. Read about Meg's work and the class.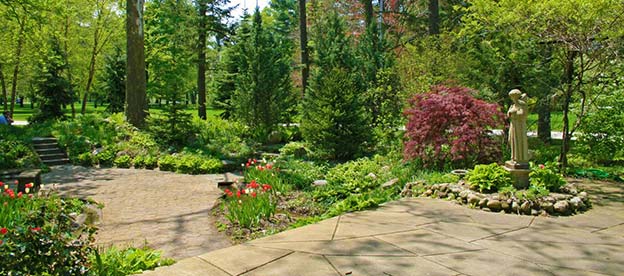 SAINT MARY'S COLLEGE SUSTAINABILITY FACTS
---
Together Saint Mary's, Notre Dame, and Holy Cross offer A COURSE ON SUSTAINABILITY with respect to land, energy, and food use in light of the charism of the Congregation of Holy Cross.
Each time a tree is taken down on campus A NEW TREE IS PLANTED to replace it.
A recent cleaning of Lake Marian produced 20 CUBIC YARDS OF ORGANIC COMPOST that was then used across campus in flower beds and other areas.
Spes Unica Hall's GREEN ROOF REDUCES ENERGY COSTS, CARBON MONOXIDE IMPACT, AND WATER WASTE while extending the building's roof life by 100–200%.
Saint Mary's LED lighting conversion project will yield a five-year SAVINGS OF $400,000+ IN ENERGY COSTS.
5,000 BOARD FEET OF LUMBER FOR THE ANGELA PROJECT CAME FROM TREES ON CAMPUS that were removed to expand the athletic fields.
The UNITY GARDEN on campus brings people together to tend it and provides locally-sourced food for all to share.
The Sisters of the Holy Cross established the CARBON FOOTPRINT REDUCTION FUND to support carbon-reducing projects and the use of renewable energies in their communities and ministries.
The Saint Mary's Environmental Action Coalition Club began the FREE STORE for students to share unwanted clothing and items to keep it out of landfills.
Saint Mary's is the first college to sign the Real Food Challenge. By 2020, 20% OF FOOD SERVED WILL COME FROM LOCAL, FAIR, AND HUMANE SOURCES.
The Department of Facilities requires 50–75% OF DEMOLISHED MATERIAL TO BE RECYCLED during a construction project. Five recent projects exceeded this requirement.
The Office for Civic and Social Engagement and Sodexo Dining Services facilitate the FOOD RECOVERY PROGRAM FOR THE CENTER FOR THE HOMELESS.