Belles Edge Scots for Third at MIAA Championships
HOLLAND, Mich. - The Saint Mary's cross country team beat out Alma by just two points to claim third place at the MIAA Championships on Saturday at the West Ottawa Golf Club.
Fifth-ranked Calvin won the event with a team score of 21. Hope, who is ranked 22nd in Division III, was second with a score of 36. The Belles finished with a score of 102 while Alma was fourth with 104 points.
Jessica Biek continued to set the tone for the Belles. The senior was the first non-Calvin, non-Hope runner to cross the finish line while taking ninth place overall in a personal record time of 22:46. Her time was also the second-fastest all time by a Saint Mary's cross country runner at an MIAA Championship event (Megan Gray, 22:18, 2007).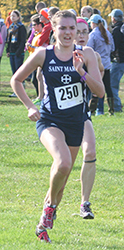 Allie Danhof sprints to
the finish on Saturday.
(photo credit: Jeff Febus,
Calvin Sports
Information Director)Brittany Beeler turned in a big season-best time of 23:08 to claim 15th place. Personal record times by Allie Danhof, Katelyn Dunn, and Colette Curtis sealed the top-three finish for the Belles. Danhof was 23rd with a 10-second improvement of 24:03. Dunn cut half of a minute off of her PR from earlier this season with a 24:15 to claim 26th place. Curtis was 29th with a personal-best time of 24:28.
Erin Knauf and Samee Chittenden assured the Belles of a strong overall team showing. Knauf ran her best time of the season with a 24:34 for 30th place. Chittenden had a personal record time of 24:41 to finish 32nd overall.
Kathryn Marshall ran a 25:04 to finish 63rd, and Kaitlyn Alessi finished the 6k in 25:26 for 72nd place. Emily Getz posted a 25:51 for 84th, and Colleen Ogren was 11 seconds behind with a 26:02 for 84th.
Maggie Pacana ran a 26:45 for 96th place individually, Holly Higdon was 100th overall with personal record of 27:05, and Sarah Thompson was 105th in a time of 27:29.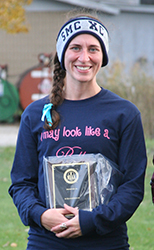 Jessica Biek accepts her
All-MIAA Second Team award.
(photo credit: Jeff Febus)At the conclusion of the race, the All-MIAA teams were announced, which are based on finishes at both the MIAA Jamboree and Championship races. Jessica Biek became the sixth runner in the history of the program to earn All-MIAA honors as the senior earned a spot on the Second Team for her finishes at the two conference meets.
The Belles finished third overall in the final MIAA standings, matching the best finish in program history, which was accomplished in 2010.
The team is off next weekend and will race in the NCAA Regional on Saturday, November 16 at Calvin beginning at 11:00 a.m.