Beeler Named MIAA Cross Country Runner of the Week
FREELAND, Mich. - The Michigan Intercollegiate Athletic Association has named Brittany Beeler as its Runner of the Week in women's cross country for meets through October 11.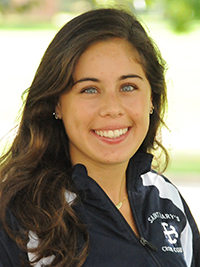 Beeler, a sophomore from Spring Lake (Spring Lake HS), posted her fastest time ever as she finished sixth at the Benedictine, Ill. Invite with a time of 22:44. It was the first time she broke the 23-minute mark.
Beeler is being honored as Runner of the Week for the first time in her career. It also marks the first time since the conference started the runner of the week recognition in 2011 that a member of the Saint Mary's cross country team has earned the honor.