Belles Take Fourth at Benedictine Eagle Invitational
WARRENVILLE, Ill. - The Saint Mary's cross country team claimed fourth place out of 14 teams at the Benedictine Eagle Invitational on Friday afternoon.
North Central, who is ranked 24th nationally, won the event with a team score of 21. Aurora, who received votes in the most recent national poll and is ranked fifth in the Midwest Region, took second with a team score of 43. Beloit was third with a 93.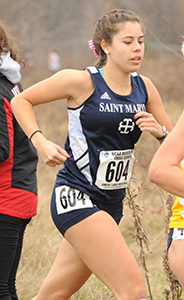 Brittany Beeler ran a PR time of
22:44.49 to lead the Belles.The Belles turned in a team score of 111 to finish 33 points ahead of fifth-place Concordia University Wisconsin. Brittany Beeler ran a 6k personal record time of 22:44.49 to finish in sixth place overall to pace Saint Mary's. Natalie Hawkes had a solid 23:40.10 to finish nineteenth overall on the day.
Katelyn Dunn and Kaitlyn Alessi finished back-to-back with personal record times of 24:11.04 and 24:14.29 to finish 31st and 32nd overall at the race. Kathryn Marshall wrapped up the fourth place team finish with a personal record time of her own of 24:23.89 to cross the finish line 34th.
Just a few seconds later, Colleen Ogren and Samee Chittenden claimed consecutive finishes. Ogren picked up a new personal record time with a 24:28.06 for 37th place, and Chittenden ran a 24:29.40 to claim 38th. Allie Danhof finished 41st in a time of 24:32.08.
Caitlin Blum ran a 24:48.50 for 47th place, and Anna McClowry narrowly missed out on a finish in the 24-minute range with a 25:00.12 to finish 53rd. Reilly Pieri ran a 25:29.09 to finish 65th, and Maggie Pacana had a 6k PR with a 25:39.54 to take 71st.
Colleen Burke was not too far behind as she crossed the finish in 25:48.43 for 79th place. Erin Knauf rounded out the Saint Mary's performances on the day with a 26:10.77 to finish 88th.
The Belles return to action next Saturday, October 18 when they travel to Oberlin's Inter-Regional Rumble, which begins with the men's race at 11:00 a.m.