Belles Claim Fifth Place MIAA Finish
GRAND RAPIDS, Mich. - The Saint Mary's cross country team finished fifth at the MIAA Championship race hosted by Calvin on Saturday.
No. 6 nationally-ranked Calvin won the race with a team score of 27. Hope, who is ranked 32nd nationally, was second with a score of 55. Albion was third with a 95, and the Belles were behind fourth place Alma (113) by six points with a 119.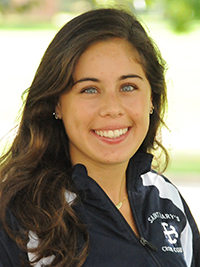 Brittany Beeler finished 12th and
earned All-MIAA Second Team
honors.Brittany Beeler led the way for the Belles by claiming 12th place with a time of 22:53. She is the third Saint Mary's runner to post a time in the 22s at an MIAA Championship race, joining Megan Gray and Jessica Biek. Her 12th place finish was more than good enough to earn the sophomore a spot on the All-MIAA Second Team. She becomes the seventh runner in program history to earn a spot on one of the two all-conference squads, which is based solely on finish at the MIAA Jamboree and MIAA Championship races.
Natalie Hawkes continued her strong season with a 20th place finish by running the 6k course in 23:40. She was also the fourth-fastest freshman in the field on Saturday. Allie Danhof and Kaitlyn Alessi finished within two seconds of one another. Danhof was 27th with a season-best 24:25 while Alessi ran a 24:27 for 28th place. Kathryn Marshall secured the fifth-place finish for the team with a 24:37 and 32nd place.
Samee Chittenden was just two seconds behind Marshall as the senior ran a 24:39 for 33rd place overall. Caitlin Blum ran a season-best 24:46 for 35th for the Belles on the afternoon.
Anna McClowry broke into the 24-minute threshold with a 24:50 to finish 53rd. Katelyn Dunn and Colleen Ogren finished back-to-back for 56th and 57th, respectively, with times of 24:54 and 24:55. Collen Burke ran a 25:51 to finish 75th while Maggie Pacana turned in a time of 26:00 for 77th place. Erin Knauf had a time of 26:38 on the afternoon to take 86th.
The Belles are next in action on Saturday, November 15 when they compete at the NCAA Great Lakes Regional race in Mason, Ohio.