Belles Finish Fifth at MIAA Jamboree
KALAMAZOO, Mich - The Saint Mary's cross country team finished in fifth place at the MIAA Jamboree race hosted by Kalamazoo at Eastern Hills Golf Club.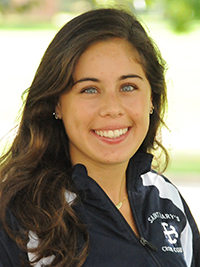 Brittany Beeler helped lead the
pack for the Belles on Saturday.Tenth-ranked Calvin won the race with a team score of 20. Twentieth-ranked Hope was second with a 59, and Albion was third with a 103 team score. The Belles had a team score of 121 at the event. Natalie Hawkes led the Belles' efforts on the day by finishing 18th in a time of 24:43. Brittany Beeler was not far behind as the sophomore was 20th with a 24:57.
Kaitlyn Alessi and Reilly Pieri provided the next one-two punch for the Belles. Alessi ran a 25:20 to finish 25th, and Pieri finished the 6k race in 25:30 for 28th. Allie Danhof wrapped up the team score with 30th place in a time of 25:45.
Kathryn Marshall finished just six seconds behind Danhof for 31st place with a 25:51. Caitlin Blum crossed the finish line in 26:13 for 38th place for the Belles.
Katelyn Dunn was 57th with a time of 26:16. Samee Chittenden and Colleen Ogren finished back-to-back with finishes of 26:28 (60th) and 26:29 (61st), respectively. Anna McClowry ran a 26:53 to take 65th.
Erin Knauf crossed the finish line in 27:36 for 76th place. Colleen Burke ran a 28:11 for 83rd. Maggie Pacana posted a time of 28:37 for 88th place, and Anna Riddle rounded out the Saint Mary's efforts at the race with a 29:58 for 100th.
The Belles have next weekend off from competition and return to racing on Friday, October 10 when they compete in the Benedictine Eagle Invitational at 4:00 p.m. CDT.