Belles Have Solid Showing at Spartan Invitational
Brittany Beeler was the Belles' top finisher with a 24:25 (99th).
Aubrey Penn, Allie Danhof, and Anna McClowry all finished in under 26 minutes.
McClowry finished in the top five for the Belles for the first time in her career.
EAST LANSING, Mich. - The Saint Mary's cross country team held their own at the Spartan Invitational hosted by Michigan State University on Friday.
The event, which had no team scoring, featured more than 300 runners from NCAA Division I, II, and III programs as well as NAIA and Community Colleges. The Spartans' Rachele Schulist was the top individual finisher at the event with a time of 21:01 on the 6k course.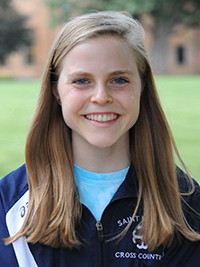 Anna McClowryBrittany Beeler continued to lead the way for the Belles as the junior finished 99th overall in 24:25. Aubrey Penn was 129th in a time of 25:03, and Allie Danhof ran a 25:22 to finish 146th. Anna McClowry put together her top finish for the Belles in her young career as the sophomore was 174th in a time of 25:59.
Adele Edmonds, Kaitlyn Alessi, and Katelyn Dunn all finished within four seconds of one another on the day. Edmonds was 177th with a 26:05. Alessi was right behind with a 26:06 (178th) while Dunn was 180th with a 26:09. Emily Harrast and Mary Philbin put together back-to-back finishes with Harrast finishing 194th (26:21) and Philbin crossing the finish line 195th (26:22).
Caitlin Blum, Colleen Ogren, and Sarah Allen were also a pack of finishers for the Belles on the afternoon. Blum was 203rd in 26:34, Ogren was 206th in a time of 26:36, and Allen took 207th in 26:37.
Colleen Burke finished 215th overall in a time of 26:53. Maggie Pacana was 227th with a 27:17. Kathryn Marshall was the Belles' next finisher with a 27:43 (241st), and Meghan Allen wrapped up the team's efforts on the day with a time of 28:03 (251st).
The Belles compete next Saturday, September 26 in the MIAA Jamboree, which is hosted by Hope College at the West Ottawa Golf Club starting at 11:00 a.m.