Cross Country Coaching Staff
Head Coach
Jackie Bauters
Jackie Bauters enters her 14th year at the helm of the Belles cross country program in the fall of 2018.
A 2004 graduate of Saint Mary's, Bauters was a three-year member of the cross country squad. In 2001 she was named to the MIAA second-team all-conference squad. In addition, she was named to the MIAA academic honor roll on three occasions. She also served as the team captain her senior year.
In 2006 and 2007, she coached Megan Gray to the NCAA Division III Championship race. It was the first time that Saint Mary's had a runner run in the National Championship event. Both Gray and Sara Otto earned MIAA All-Conference honors in 2006 in becoming the second and third Saint Mary's harriers to earn such an accolade. 
In 2007, she guided the squad to the team title at the Thunder and Benedictine Invitationals. In 2008, Megan McClowry joined the list of All-MIAA cross country runners with her strong season. Saint Mary's also posted back-to-back fourth place finishes at the MIAA Championships in 2007 and 2008.
Julia Kenney joined Gray as the second Belle to earn All-MIAA and All-Region honors in the same season with a strong season in 2010. During the fall 2013 season, Jessica Biek accomplished the same feat of earning both All-MIAA and All-Region honors during her senior campaign while helping pace the Belles to a program-best fourteenth place finish at the NCAA Division III Regional race. In 2014, it was Brittany Beeler's turn to earn All-MIAA and All-Region honors, joining Kenney to complete the feat as a sophomore. Beeler repeated as an All-Region performer while picking up First Team All-MIAA accolades in both 2015 and 2016.
"The cross country program at Saint Mary's is steadily headed in a positive direction and as an alumna it means a lot to me," Bauters said. "Being able to steadily progress toward the top tier of the MIAA during my tenure has been a great thrill."
After graduating from Saint Mary's, the Highland Heights, Ohio, native served as an assistant coach at Ithaca College (N.Y.) while earning her master's degree in sports psychology. During the 2005 season, she help guide the Bombers squad to an appearance at the NCAA championships.
 
Assistant Coach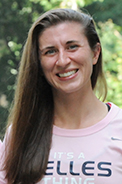 Jessica Biek
Faculty Advisor
TBA
Team Chaplain
Sister Louisita "Lou" Welsh, CSC