Dance Marathon
Dance for a Chance: Students Pull an All-Nighter for a Worthy Cause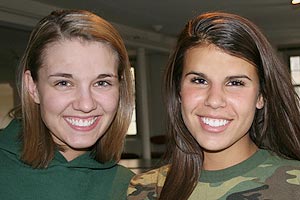 Pauline Kistka and Francesca Johnson

When juniors Francesca Johnson and Pauline Kistka started Saint Mary's Dance Marathon their freshman year, they set their sights high. "We're now the third largest Dance Marathon in Indiana," Kistka says." Last year the student-led organization raised almost $50,000 for Riley Hospital for Children in Indianapolis. Last Friday they raised a whopping $85,000. They dance to give hospital patients "a chance" for recovery and lifelong health.
How Do They Do It?
"It's really a year-round event," says Johnson, a communications studies major. "We get to work on it during the fall, and the Marathon is the finale." This yearlong operation required planning and organization on the part of 92 student volunteers. In the fall, the students organized themselves into committees, including public relations and activities committees.
When a dancer signs up in the fall, volunteers hand her a "dancer packet." She agrees to participate in the dance marathon, and provides the letter-writing committee with the names of family and friends who would be willing to sponsor her. "A solid portion of our funds come from the letter-writing campaign," says Johnson. Students on the committee write to the dancers' families and friends to explain Dance Marathon and ask for their support.
Dance for a Chance
The Dance Marathon at Saint Mary's has been successful enough to receive national recognition. In 2006, Johnson and Kistka represented Saint Mary's at the Children's Miracle Network National Conference. They received an award for "Nation's Best New Dance Marathon," for their exceptional support of Riley Hospital.
The hospital is a member of the Children's Miracle Network. Several other Indiana colleges and universities hold their own Dance Marathons. Johnson and Kistka took six committee members to visit Riley this year. When there, they toured the grounds, heard talks given by doctors and nurses, and visited with the families they support.
On Friday night, students were on their feet for 12 hours, dancing the night away, playing games, and listening to Riley families as they told their stories. Their stories give meaning to a year of hard work, says Kistka, who is part of Saint Mary's nationally accredited nursing program. "That's always the most rewarding part of the Marathon."
Learn more about Dance Marathon at Saint Mary's: read about junior Maura Clougherty.