Saint Mary's COVID-19 Dashboard
5
New positive cases
reported previous day
5 students
0 employees
3.14
7-Day moving average of reported positive cases
44
Total positive cases
from
January 18, 2021
39 students
5 employees
14

est. recovered
30

est. active
Updated 2/25/2021
Data represents all students, faculty, and staff, and includes results from screening testing, as well as on- and off-campus diagnostic testing with results reported to the Health and Counseling Center. Also included are employee tests conducted off-campus and reported to Human Resources.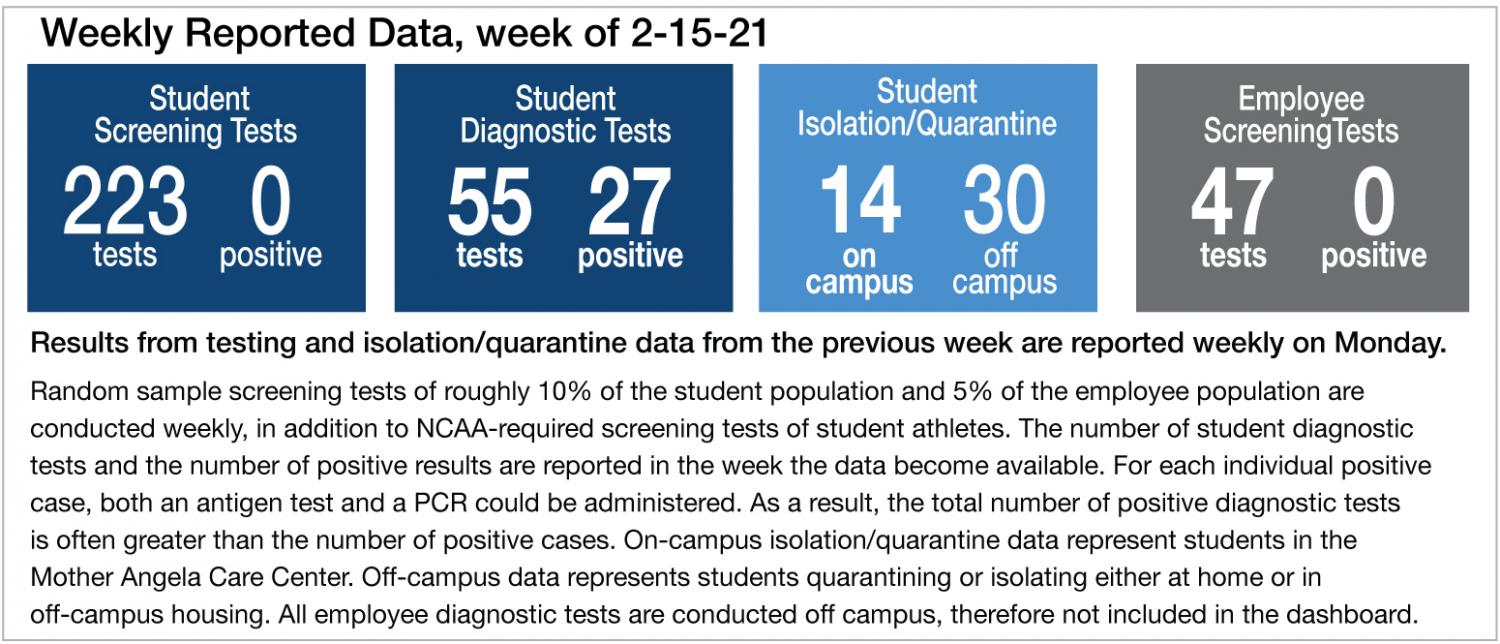 Key Terms
Isolation: For individuals with COVID-like symptoms or positive test results. The length of stay in isolation is 10 days from the onset of symptoms or a positive test. For symptomatic patients, there must also be a demonstrated improvement in symptomatology and no fever for 24 hours in order to be released from isolation
Quarantine: For individuals with identified exposure to an infected individual. The length of stay in quarantine is 10 days from exposure with no onset of symptoms
Exposure: Per guidelines from the CDC and St Joseph County Health Department, any individual who has been in close contact (within 6 feet for more than 15 minutes without a mask) with a person who was diagnosed or was likely to have COVID-19 is considered to have been exposed.
Diagnostic Testing: A diagnostic test can show if you have an active coronavirus infection and should take steps to quarantine or isolate yourself from others. At Saint Mary's, we conduct a diagnostic test for any student who is symptomatic, or has been directly exposed to someone with an active COVID-19 infection.
Screening Testing: The College will test a random sample of students, faculty, and staff each week for COVID-19. Included in the overall population will be undergraduate and graduate students who attend courses on campus, including commuter students. It does not include students, faculty, or staff who are completing all their Saint Mary's courses or work responsibilities solely online, or those who have tested positive in the 12 weeks prior.
Testing Methods:
PCR: molecular tests that detect the virus's genetic material
Rapid Antigen: tests that detect specific proteins on the surface of the virus
Moving Average (also known as Rolling Average): A 7-day moving average takes data from the past 7 days, adds them up, and divides it by 7. This provides an average over time, removing peaks and valleys.