Seville, Spain Study Abroad Program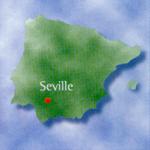 Saint Mary's College has an affiliation with the Center for Cross-Cultural Study at Seville, Spain. A beautiful and ancient city on the banks of the Guadalquivir River, Seville has a rich cultural life. A Roman city in 205 BC, Seville became a great port and was held successively by the Visigoths and the Moors until King Ferdinand III of Castille conquered it in 1248. The city is known for it Moorish palaces and its Renaissance gardens, its paintings, its statues, and its world-famous ceramic tiles. The Seville Cathedral, built in the 1400's is one of the most impressive gothic cathedrals in the Christian world.
The CC-CS offers a total immersion program on the study of the Spanish language and culture. Students choose courses embracing a variety of disciplines - language, civilization, literature, politic and economy of Spain, art history, Spanish society, Comparative marketing, the Spanish business environment, and others. Students may choose a minimum of 12 credits and a maximum of 17 per
semester. All courses are taught in Spanish.
The CC-CS offers the following options: a Semester, an Academic Year, a January Term and two Summer Sessions. Saint Mary's students normally enroll in the Spring semester of their sophomore year. Students pay one semester's or one year's tuition, room and board to Saint Mary's College. Not included are air transportation and personal expenses. The CC-CS provides a health insurance policy for all students who participate in the program. Students are housed in a family home.
Admission Requirements: Students in the Fall semester, January term and academic year program must have completed two semester of intermediate college Spanish or the equivalent. Students in the Spring semester program must have completed one advanced-level course. A grade average B (3.0) or above in Spanish is required. The most appropriate time to travel to Seville is during the Spring Semester of your sophomore year.
For further information contact Jill Vihtelic, Faculty Coordinator of Study Abroad program, phone 284-4585, e-mail jvihtelic.edu.
Sevilla
Back to top
Ancient city on the banks of the Guadalquivir River. Its gothic cathedral was built in the 1400s. Characterized by its Moorish places, Renaissance gardens, historical buildings. Celebration of the Holy Week and the Feria (March and April).
Program Center in Seville
Back to top
Independent program but there is a number of American colleges affiliated with CC-CS (Heidelberg College, Ohio; Mount Saint Mary's College of Maryland, Clemson University of S.C., Russell Sage College of New York, Hillsadale College of Michigan... Saint Mary's College's affiliation began officially in the Spring of 1999.
Program Profile
Small Classes (average 12 students per class)
Native-Spanish professors experienced in teaching American students
Teaching staff of 15 instructors
Spanish only contract signed by students
Computer room with 17 computers for student use
E-mail available to all students
Cultural activities
Study rooms
Library
Health Insurance
Housing in Seville
Back to top
Students live in private homes. Host family takes care of laundry and cleaning of the room. Meals provided at home: breakfast, lunch, and dinner.
Seville Program Academic Calendar
Back to top
Fall
September 1 - December 20
January Term
Spring
January 26 - May 1
Summer
June 1 - June 28
June 29 - July 26
Orientation
(2-3 days)
City tour
Placement test
Tours
Fall
Spring
La Rábida monastery (where Columbus launched his first voyage of discovery)
Cádiz (evening trip to the carnival)
Granada (weekend)
Study visits
archaological sites
art museums
monuments of Seville
Fees
Saint Mary's fees for tuition, room, and board include:
tuition

double occupancy room and full board
laundry fees
study visits
orientation
health insurance
activities fees.

Students keep their scholarships
Curriculum
General Education Courses
Art
History
Sociology
Economics
Political Science
Spanish major / minor
Language
Civilization
Literature
Electives
Spanish for Business
English as a second language
and Other
Credits
Normally 14-15 credits per semester.
All credits accepted by Saint Mary's (lowest grade: C)
Grades are recorded in student's and count for student's GPA
50% of required credits are accepted for a minor or a major
Enrollment Procedures
College GPA: at least 2.5
Spanish courses: 3.0 average (B)
A student with less than 3.0 but not less than 2.67 (B-) may be considered but only with the strong recommentation of her Spanish professor.
Additional Information
For additional information, contact:
Jill Vihtelic
Faculty Coordinator of Study Abroad Programs
(574) 284-4585
jvihtelic@saintmarys.edu