Catering
Event Planning Guide & Policies
Thank you for planning your event with us! We look forward to working with you to insure you have a wonderful experience and fabulous event. Please make sure you read over the Policies and Procedures as some policies have changed.
Feel free to call or e-mail to address below with any questions or concerns. Again, Thank you for your Business!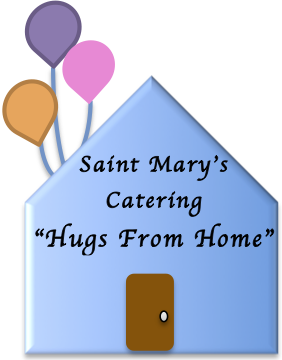 Parents, ever feel like rewarding your daughter with any special goodies? Friends, ever want to send another classmate a "thinking of you" dessert? Any and all are welcome to participate in Saint Mary's Catering, "Hugs from Home". We provide a variety of delicious desserts that you can send your loved one. A simple way to show you care. Want to celebrate a birthday or holiday with them? We can handle that, too! Just click on the SMC Catering "Hugs from Home" icon to see all of the wonderful goodies we offer. We're here to help you, every step of the way!
SMC Community Catering Guidelines = Link to exclusive information and guidelines for the Saint Mary's Community!
This represents only a starting point. Our commitment is to provide you and your guests with an unforgettable experience.
Once you have reserved your space by contacting Saint Mary's Special Events at (574)284-4625, please call Catering Services at (574)284-5345, or e-mail catering@saintmarys.edu, to let us know when and what type of event you will be hosting.
There is no such thing as planning too early. For planning and ordering purposes, we will ask you for an estimated number of guests. You can give us your guarantee as we get closer to your event. A final guarantee will be required 5 business days prior to your event. Cancellations and changes after that date may incur additional charges.
We ask that you schedule your event with us 2 weeks prior. We understand that this might not always be an option due to un-foreseen needs, but please, if you are aware that an event is approaching, give us as much notice as possible. Because of scheduling restrictions and availability of food, there may be additional charges and/ or restrictions applied to your event, if your event is booked with less than 2 weeks notice.
You will be sent a contract via email that outlines the details of your event. Please review the information, sign the contract and send it back to us. Fax: (574)284-4708. If you wish, you may reply via email and we will accept this as your approval for your event. We must have your signed contract with College Department Account Code in our office prior to your event.
Billing will be sent out after your event and you will be billed for your final guarantee or guest count, whichever is greater.
Cancellations must be made 5 business days prior to any event. Any cancellations made 5 business days prior to an event will incur a 25% charge of the estimated billing, 2 business days will be 50%, 24 hours or less will be 100%.
Linen for guest's tables is included with full service meals. If you would like linen put on buffet food tables, guest seating tables for receptions & meetings, breaks or boxed lunches, there will be a $2.50 fee for each cloth, $10.00 for each skirt and $1.00 per napkin. The same applies to tables for registration, name tags, head tables, meeting tables and any additional table that will not be used directly for food service. (This linen policy is not applicable for weddings.)
Sodexo Dining Services is contracted to be the exclusive food provider on the campus of Saint Mary's College. This is for your safety and ours. We ask that you not bring in any outside food or beverages for your event. Due to Health Department regulations and liability issues, prepared foods that are not consumed will remain the property of Sodexo Dining Services, and are not to be removed from your events.
Any on-campus event with a final billing under $50.00 will be charged a $15.00 delivery fee. This will not include events requiring additional needs for a Truck & Driver. These types of events will incur additional Charges to cover cost of Truck Rental and labor for the Driver.
We offer a "Casual Catering" menu, where you pick up your order to eliminate delivery charges. This is an attempt to help campus groups stay within their budgets and manage their time. These orders need to be filled out on the Casual Catering sheet to get exclusive pricing.
All events are priced for a 2 hour event time. If your event is delayed or if the event lasts longer than two hours, there will be an additional labor charges added to your bill. This includes programs after dinner and if room needs to be cleared by catering staff.
mail completed form to: catering@saintmarys.edu