Catering for Weddings
A Saint Mary's Wedding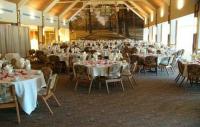 This web site is meant to provide you with fresh, contemporary menus. However, this represents only a starting point. Our commitment is to customize and create whatever is required to provide you and your guests with an unforgettable experience. We look forward to the opportunity to work with you!
Salad Choices
Fresh Field Greens Tossed with Yellow Peppers, Cherry Tomatoes, Cucumber Slices, and Shredded Aged White Irish Cheddar. Topped with Pine Nuts.
Leafy Wild Greens with Gorgonzola, Candied Walnuts Tossed in a Raspberry Vinaigrette with Cucumbers and Grape Tomatoes.
Brilliant Fresh Green Baby Spinach Leaves Tossed with Strawberries and a Light Lime Vinaigrette. Topped with Candied Pecans.
Boston Bib Wedge Salad with Avocado Slices and Salted Cashews Drizzled with a Mango and Mandarin Orange Vinaigrette with Fresh Basil Leaves.
Fresh mozzarella and Juicy Ripe Tomatoes in a Balsamic Vinaigrette with Fresh Basil Leaves.
Entrees
Filet of Tenderloin and Tequila Lime Marinated Shrimp Served with a Shallot Dijon Coulee
Filet of Tenderloin Drizzled with a Port Wine Demi Glaze.
3oz Tenderloin Filet Served with a Marsala Demi Glaze 3 oz Chicken Breast.
Lime Cilantro Marinated Chicken Breast
Apple Whiskey BBQ Marinated Breast of Chicken
Filet of Tasmanian Salmon Topped with a Buttery Maple Glaze.
Boneless Chicken Breast and Gulf Shrimp Sauteed in a Tomato Lemon Sauce.
Filet of Tenderloin Accompanied with Crab Stuffed Shrimp Lightly Coated in a Creole Mustard Sauce.
Brailed Tilapia Served upon a Bed of Fresh Wilted Spinach. Topped with a Roasted Corn and Avocado Chutney.
Accompaniments
Oven Roasted Herb Wedge Cut Red Potato
Yukon Gold Custard Potatoes
Horseradish Whipped Potatoes
Goat Cheese Herb Potato Cake
Sweet Potato Croquets
Tri- Roasted Potato Medley
Wild Rice Pilaf
Herb Harvest Rice Pilaf
Spring Confetti Rice
Pearl Couscous