A New Path
A New Path: Saint Mary's offers education majors a new career option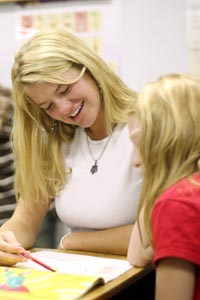 Saint Mary's is offering a new certification to its education students, and education professor Nancy Turner is at the helm. She is developing a new class for students who will obtain dual licensure in Elementary Education and Special Education: Mild Interventions.
Turner was granted sabbatical during the spring semester of 2008 to develop one of the courses in the dual licensure program: Ed 368 Elementary Methods for Exceptional Learners: Mild Interventions. She was awarded a Center for Academic Innovation (CFAI) Faculty Development Teaching Grant for this summer for financial support of new materials for the course.
The new course is part of a four-course sequence that will be offered beginning in the 2008-2009 academic year. "[It] will focus on instructional methods for students needing mild curricular and instructional interventions," says Turner. Throughout the dual licensure program, preservice teachers will be working with real students in real classrooms who need these types of interventions.
"The new program will offer students choosing this option a career path in special education in addition to elementary education," explains Turner. "Special education is one of several good additions to the elementary license that is offered by the department. Others include a reading license, English as a New Language (ENL) license, and an Early Childhood minor."
Rising sophomore Frannie Hermes has already made the decision to work toward the licensure in special education. With a major in elementary education and this enhancing credential, Hermes will graduate in 2011 prepared for a wider range of career opportunities. "Any time a program can be broadened to be more inclusive, that is exciting," she says. "It goes to the heart of what education is by definition."
The program will ultimately provide future teachers with a knowledge base that allows them to teach children who learn in different ways. "My hope is to empower my students as future teachers," says Turner, "to maximize the learning of each child and to ultimately enhance the lives of those with disabilities."