Global Leaders
Preparing Global Leaders: Students Leave for Dubai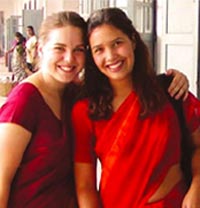 This week, five Saint Mary's students are off on an adventure that will enhance their knowledge as global leaders. They are all pursuing a Certificate in Intercultural Leadership at the College, along with their regular studies. Thursday they headed to Dubai, United Arab Emirates, to attend the Women as Global Leaders Conference.
Expanding their Horizons
The conference, hosted by Dubai's Zayed University, is a perfect fit for senior Chelsea Iversen and her academic interests. "My self-designed major, Anthropology of Global Development, has helped me to focus my education on international development in today's world, with a humanized twist that has, of course, led me to consider the emerging roles of women on a global scale," she says.
Iversen and the four other students accompanying her – Sarah Barnes, Becki Faunce, Sarita Fritzler, and Adriana Rodriguez – are participants in Saint Mary's new 2-3 year Certificate in Intercultural Leadership program. The unique program integrates classes, retreats, and mentoring and study abroad experiences into an electronic portfolio that can be used to demonstrate acquired leadership skills.
Sharing the Experience
Their advisor, Joy Evans, is the assistant director for scholarship and research in the Center for Women's InterCultural Leadership at Saint Mary's. She is accompanying the students on the Dubai trip. "In addition to attending the conference," she explains, "we will be visiting a mosque, historical sites, and the Sheikh Mohammed Centre for Cultural Understanding. This trip is sure to be a wonderful learning experience for the students as they bring back to campus a better understanding of how women's leadership is developed around the world."
The week-long trip is an opportunity for the students to meet women leaders from all over the world and gather ideas on leadership from the conference's many keynote speakers. They include U.A.E. Minister of State H. E. Reem Al-Hashimy and renowned journalist Helen Thomas, among others.
"The whole group is excited," says Fritzler, a senior political science major. When they return, the world travelers will present their experiences and new ideas on women's leadership to groups around campus.