News and Highlights
A total of $1,081,580 in grants was awarded to Saint Mary's College during the 2012-13 academic year.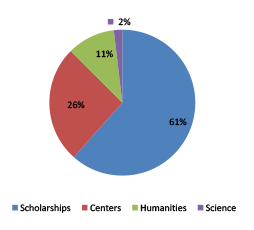 For the 2013-14 academic year, we have received, year to date, $2,091,675 in grants.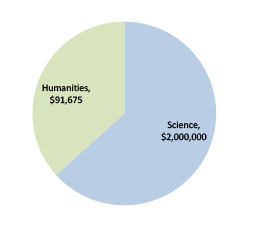 CENTER FOR WOMEN'S INTERCULTURAL LEADERSHIP
With a grant from the State Department, Bureau of Education and Cultural Affairs, the Center for Women's Intercultural Leadership (CWIL) continues to host a powerful four-week summer academic residency program (SUSI) organized around the six proficiency areas of the Intercultural Leadership Certificate Program offered by CWIL. The program provides leadership training for 20 undergraduate women from countries as Burma, Egypt, Libya, Mongolia, and Tunisia.
Women's Entrepreneur Initiative (WEI). Support from local banks and area businesses are assisting WEI in meeting its goals. 1st Source Bank, Key Bank, and PNC Bank plus NIPSCO and Pokagon Fund all made donations to WEI for the 2012-13 academic term. WEI was developed in 2009 through a collaboration between the College's Department of Business Administration and Economics and the Center for Women's Intercultural Leadership. In May of 2011, WEI initiated its signature program SPARK, an eleven-week entrepreneurship training program for women in the Michiana community. SPARK is intended to assist high-potential entrepreneurs to "spark" or launch successful businesses. As of December 2013 a total of 69 women have participated in the program. At the start of this academic year, the Florence V. Carroll Foundation awarded WEI a $10,000 grant to pilot SPARKArt , a new initiative to train women visual artists in entrepreneurship skills.
SCHOLARSHIPS
Sciences
Scholarships for STEM (Science, Technology, Engineering, and Math) programs flourished last year and continue to be available to students this academic year (2013-2014)
• National Science Foundation PRISM Scholarships for students majoring in STEM (Science, Technology, Engineering, and Math) disciplines brings $600,000 in student scholarships spread over four years to the College.
• The Henry Luce Foundation, Clara Booth Luce Program is also providing for STEM student scholarships with a $240,000 three-year grant.
Humanities
The William Randolph Hearst Foundation awarded $60,000 for scholarships for underserved students.
ACADEMIC PROGRAM GRANTS
Sciences
A $1 million grant from The Judd Leighton Foundation Inc. was received for the development of a new graduate program at the College, a Master's degree in Speech-Language Pathology, and completion of a clinic for the Communicative Sciences and Disorders Department.
A $1 million grant from the Lilly Endowment was awarded to the Mathematics Departments as part of Lilly's Initiative to Promote Opportunities through Educational Collaboration – Round III A Call to Action. The Mathematics Department will develop a graduate program in Data Science and offer a Professional Science Masters.
Humanities
• The Cushwa-Leighton Library has received $8,000 in grants from the National Endowment for the Humanities/American Library Association for its Bridging Cultures Bookshelf Program in Muslim Journeys since 2013-13 academic year. A data base valued at $2,250 was also part of this project.
• NetVUE grant of $48,000 from the Council of Independent Colleges was awarded during the 2012-13 academic year for the Women's Call in Church and Society program out of the Office of Mission.