A Good Fit
A Good Fit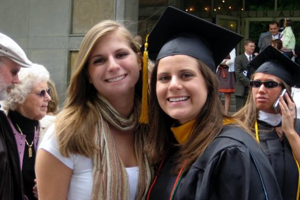 Sam Tulisiak '12 and Alex Tulisiak '09Sam Tulisiak got the best of both worlds when she came to Saint Mary's College. "I grew up loving the tradition and legacy of Notre Dame," says the Medina, Ohio, native. "But when it came time for choosing colleges, I saw Saint Mary's as the right fit for me with the small classes, close friendships, and the opportunity to participate in Notre Dame's traditions."
The biology major follows her sister, recent graduate Alex Tulisiak in becoming a Belle. Making her own way, Sam has been involved with Dance Marathon , the award-winning fundraiser that supports Riley Hospital for Children in Indianapolis. "I loved being a part of such a huge philanthropic organization," says Sam. She was also involved with Rebuilding Together, whose mission is to bring volunteers and communities together to improve the homes and lives of low-income homeowners.
Sam says the best parts of being a student at Saint Mary's are her classes and friends. "The courses are challenging and interesting and the professors are always there to help." Her favorite class is Italian and her favorite professor is Professor Nancy D'Antuono. "Professor D'Antuono makes the class and language so enjoyable, I am excited to go to class everyday," says Sam. "She is the most passionate and intelligent woman I know. Professor D'Antuono has such a love for Italian culture and language. She has helped me gain a deep appreciation for everything Italian."
Sam plans to put that deep appreciation to use soon when she studies abroad in Rome during the spring 2010 semester. "Saint Mary's has offered me endless opportunities here—everyone has the opportunity to succeed," says Sam. "I love Saint Mary's College!"