A Princess In Our Midst
A Princess In Our Midst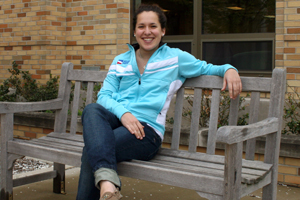 This summer, junior Jenny Hoffman will partake in an event most women could only dream of. An Indianapolis native, Jenny will represent the famous Indianapolis 500 Festival as a princess. The 33 princesses represent ten colleges and universities as well as 25 cities and towns throughout the state of Indiana. Out of the total 245 applicants, Jenny was one of the few selected based on academic performance, community and volunteer involvement, poise, and communication skills. She will get to see the race from a much different perspective—the princesses are honored with a lap around the track prior to the start of the race.
Despite the common stereotype, being a princess isn't easy. As part of her princess responsibilities, Jenny is required to engage in at least two community service programs as well as make appearances throughout Indiana to promote the Festival. She is also involved in activities on campus, as a lector at mass through Campus Ministry, and as the Student Body President (2009-2010). She is pursuing a degree in mass communications with a minor in advertising. Her work as a student has landed her an internship in New York City this summer at McCann Erickson, an ad agency. "As a communication studies major , I'd like to work in advertising or write for a magazine," says Jenny about her future.
One of Jenny's biggest impressions comes from the experience she had while studying abroad her sophomore year. "The confidence I gained, knowledge I learned, and cultures I experienced have undoubtedly shaped who I am today." Dr. Peter Checca, Italian professor and head of the Saint Mary's Rome Program , has been highly influential throughout her college career. "I immensely enjoyed my introduction to Italian class with him freshman year; he has a passion for learning that is contagious." In regard to her past years at Saint Mary's College, Jenny states, "My professors have armed me with the tools that are required to build a wonderful future." However, to Jenny, the best part about being a Saint Mary's student is meeting other women who attend the college. "Truly, there are incredible women who have done incredible things."
— Brianne Carroll '12