A Renaissance Woman
A Renaissance Woman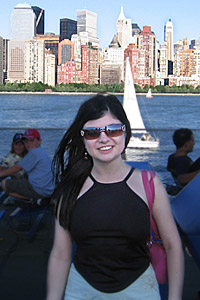 While most Saint Mary's College students adjust to life away from home in a nearby midwestern state, Vesi Yondova moved across the Atlantic Ocean, all the way from Plovdiv, Bulgaria, in Eastern Europe, north of Greece. Her father encouraged her to study in the United States because he believed it "provided a better education."
Transitioning from a large European city to a small, Midwestern town was quite a culture shock for Yondova. Her idea of America reflected what she saw in the movies and in music, as a sort of "glamorous place."
This year, Yondova is a senior who will be graduating with an accounting degree, with a minor in finance. In addition to enjoying numbers, she believes this major was more "exclusive and marketable." Her accounting professor, Mary Ann Merryman, describes her as a student who genuinely enjoys her major. Merryman added, "Vesela is lively, energetic, enthusiastic, and hardworking," traits that faculty hope to instill in all Saint Mary's women.
Yondova appreciates the arts as well. At Saint Mary's College, she studied and learned Italian in addition to being fluent in French, English, and Bulgarian. Her advanced conversation class and Italian Cultural Studies professor, Umberto Taccheri, speaks highly of her, exclaiming, "Together with her sparkling personality and unusually positive attitude, Vesela brings to class an international flavor that is very unique, and that shows in her sense of humor, her taste, in her open mindedness, and many little things one learns to appreciate over time."
Her appreciation for the arts and culture can also be seen in her year abroad in Rome and her involvement with Student Diversity Board and CWIL. Her sophomore year, she studied in Rome for a semester, immersing herself in the culture. On campus, she plays an active leadership role as student diversity treasurer and in the past years, she has acted as an admissions commissioner.
This previous summer, Yondova interned in New York with the SwissRe Reinsurance Company. As an intern, she worked in the tax department, preparing returns and tax provision. "I enjoyed the large city and multicultural atmosphere." Yondova hopes to get a job there, working for an accounting company.
Transitioning to the Big Apple permanently may be more suitable to her city lifestyle. "I am glad I overcame my challenge [of attending a small women's school in the Midwest]," asserts Yondova. She adds, "Going to another school makes you better. Take advantage of Saint Mary's."
—Megan Stokes '09