A Teacher's Journey
A Teacher's Journey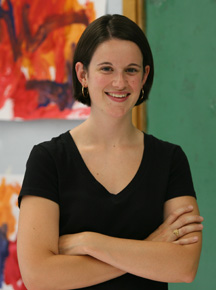 Honduras is often called Central America's meeting place—a country where tropical jungles coexist with pine forests, local traditions endure despite globalization, and a huge disparity persists between rich and poor. It's also a place that has let Annie Cashore combine her diverse interests to serve others. The 2004 Saint Mary's graduate lives in Juticalpa, central Honduras, where she helps run a bilingual Catholic school.
The journey began at Saint Mary's, where Cashore chose a double major in education and Spanish. "I have always known that I wanted to be a teacher. Teaching is in my blood, making an education major a natural choice. At the same time, I was enamored with the Spanish language as a first year student, having already spent a summer abroad in Spain during high school," she says.
"The Saint Mary's Spanish department felt intimate and personal. I was always challenged to my utmost, and my professors pushed me to improve and to reach my full potential. Some of my favorite memories are of dinners on and off campus, sharing good food and quality Spanish conversations, creating friendships that have lasted past graduation," she remembers. "Also, my student teaching experiences definitely helped me become a well-prepared teacher and I am grateful to Saint Mary's for the professionalism it requires of its education majors."
Right after graduation, Cashore joined the Urban Catholic Teacher Corps, a program that places volunteer teachers at inner-city Boston schools while they pursue master's degrees in education. Following that assignment, she moved to Honduras to volunteer with the Olancho Aid Foundation. After just one year teaching fourth grade at Santa Clara School, she was tapped to be the school's general coordinator.
"I am now a bilingual professional, running a bilingual grade school. I work daily in both English and Spanish and I manage two different curriculums, a national Honduran curriculum as well as national standards from the United States," says Cashore. "The preparation I received from Saint Mary's has enabled me to manage all this with ease. Saint Mary's also helped me prepare for my future, knowing that education is a lifelong journey."
"I learn something new every day!" she says. "Only God knows what's in store, but I can say with confidence that I am content in Honduras and that I know I am making a difference, combining my love of service, education, and Spanish."