Above Par
Above Par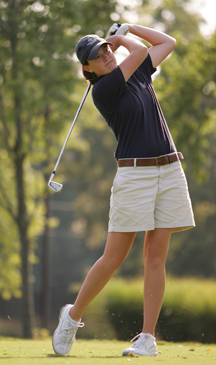 Senior Katie O'Brien is currently the #1 golfer in the Michigan Intercollegiate Athletic Association and had an amazing summer internship at one of the world's premier golf courses. It's hard to believe that in her first year at Saint Mary's, she almost didn't go out for the team.
"I didn't intend to play golf at Saint Mary's," says O'Brien. "I was more concerned with whether I was going to have time to do schoolwork and make friends—I was worried about the balance." Aware of her talent and love for the game, Coach Mark Hamilton and golf team members pursued O'Brien with calls and emails. "They made me come out to practice and the rest is history. I've loved every minute since," she says.
A history major, O'Brien is a two-time member of the MIAA all-academic team. She says sports have helped, not hurt, her studies. "I feel like it's really made me balance my time well. I finish class, go to practice, and know I have to come home and get my homework done." In 2006, Saint Mary's earned a #3 national ranking—after Princeton and Yale—in Golf Digest's list of the best places to play college golf. "I was very proud of that," says O'Brien. "It speaks volumes about Saint Mary's, because it's not just a golf ranking but an academic ranking."
This summer, O'Brien was one of just 40 college students chosen (from a nationwide pool of 900 applicants) for a prestigious PGA Tour internship. She was placed at TPC Sawgrass, "which is one of the best golf courses in the world and probably one of the toughest. I could play there every day after work if I wanted to, and that really challenged my golf skills." When she returned to Saint Mary's after the internship, O'Brien says, "everything fell into place." In October she became the fourth golfer from Saint Mary's to claim MIAA league medalist honors.
After graduation, O'Brien is considering law school and a business career with the PGA. She believes that golf holds lessons that extend beyond the green. "I'm attracted to the game of golf because I feel like it's a life sport, and a lot of the attributes that are found in good golfers are also found in successful people in the real world. You have to be patient and level-headed; you have to be well mannered and have proper etiquette. All the things that make a really good golfer make a good person, too."